At-Large Recorder 2
Add a VCR to your Sling Media SlingBox™ Device
Introducing At-Large Recorder 2, VCR-like software that lets you record video directly from your Sling Media SlingBox™ device on any Windows PC. You can record right away, or schedule multiple programs to record later automatically. It's really easy to use.
Easy to Use
When you first use At-Large Recorder 2, it will import your existing SlingBox settings. Then just click Record, and you can start recording immediately, or schedule a recording for later.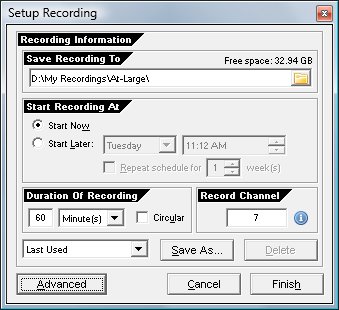 Watch Live Video While Recording
If you would like to watch the live video while you are recording, simply click the Play button during a recording session and the viewer will appear.With At-Large Recorder 2 You can pause and resume playback, change the volume, or restart the video using the controls at the bottom of the display. You can also resize the video playback window while playback occurs.
Continually Monitor and Record a Video Feed
The Circular Recording option is useful when you want to continuously monitor a video feed. For example, this feature is handy for recording from Video sources like security cameras. This feature also gives you the option to delete older segments to keep free space on your disk drive. Selecting the Circular option in your recording settings brings up this window: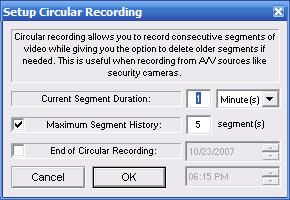 Enter the Segment Duration. Selecting the Maximum Segment History option will limit the number of segments to the number you have chosen. For example. If you choose to record 20 segments each 10 minutes in duration, the 21st segment recorded would replace the first, and so on. You can select a date and time to end the circular recording by selecting the End of Circular Recording option. Click OK.
Scheduling Tricks
The Scheduling feature of At-Large Recorder works as long as At-Large Recorder is running. Remember this simple concept, and everything will make sense.
To cancel an upcoming scheduled recording:
* Simply close the running instance of At-Large Recorder.
To schedule multiple recordings:
* Open a new instance of At-Large Recorder, and set up another recording. You can have several At-Large Recorder windows open simultaneously.
Playing Recordings
At-Large Recorder remembers what you have recorded, and makes it easy to find and play your saved video.
Here's how to play your recordings:
1. While not recording, click Play. A window showing your recording history appears: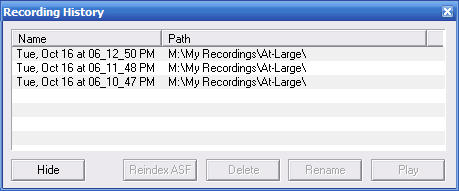 2. Click on a file, then click Play to watch it. In a few seconds, the video appears in Windows Media Player.
Note: You can also delete or rename recorded files from the History dialog.
Fixing ASF Files
At-Large Recorder saves all of your recordings in .asf format. When a recording is finished the .asf file is processed making it seekable when you watch it later. If a recording was interrupted, the post-processing may not have taken place. You can use the Reindex ASF button to process those recordings. Click the Play button to open your recording history. Then highlight the file you'd like to fix and click the Reindex ASF button: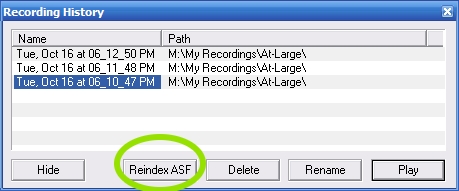 System Requirements
* Windows-based PC
* 5Mb disk space.
* SlingBox™ device (AV, Solo, Pro, Classic) NOT HD
* Requires that you successfully setup your Slingbox for remote internet access. Use the setup wizard in SlingPlayer to easily accomplish this
Got a Mac?
All Applian recording products are designed for the Microsoft Windows operating system.

Run Windows on your Mac with Parallels


---
Return from At-Large Recorder 2 to video-software-house/Home

Return back to Streaming Video Recording