VIDEO CAPTURE SOFTWARE TO SAVE YOU TIME AND MONEY
I was looking for video capture software where i could record videos from my web cam. I was more confused then a bee trying to get nectar from the sun I couldn't find software that record videos from my web cam I had downloaded about ten different software programs that didn't work, so i looked at video's people had posted on you tube about capture software. And then i watched one video which was about one program called debut video capture program it is produced by NCH software. Now within the first hour of testing this I was amazed because it is free to download and it has so many features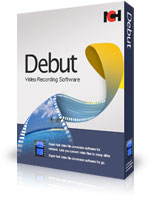 1. It can capture from web cam and screen with audio.
2. You can choose frame rates it has video effects were you can choose from filters and you can change color settings and even place text captions.
3. You can change resolution and frame rate of video output.
4. You can choose from multiple file types.
5. You can take snapshots.
6. When recording the screen you can choose a direct place where you want to record or you can record the whole desktop screen.
7. You can limit the recording time which is use full for you tube e.g how all video's need to be 10 min.
If you want to download this product it is free its not a trial so it doesn't run out after 15 days or whatever but i will happily give it the thumbs up I'm very pleased with it and don't worry about it being complicated it is very simple.
Debut Video Capture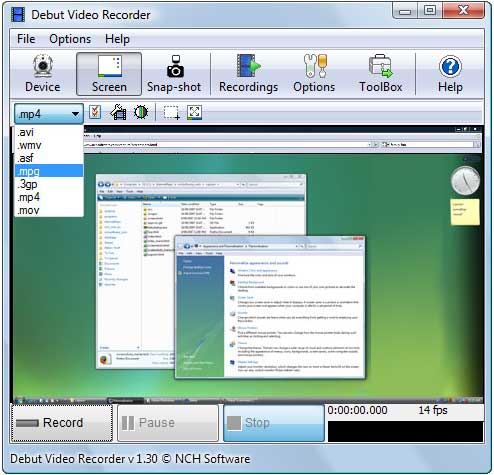 There are more video capture software out there than you can poke a stick at. What I hope to do for you is to weed out the bad and the ugly so you are left with software that you are looking for now here is some more that may be what you are looking for.


Camtasia Studio 6
Camtasia Studio 6 is a video capture software that captures anything on your screen, with no compromise between quality and file size. TechSmith compression technology gives you perfect-quality recordings and compact file sizes


Screen Virtuoso
Screen Virtuoso allows you to record a desktop activity and save the clip as AVI file, which can also be converted to MPEG 1/2 VCD/SVCD/DVD, FLV/SWF, WMV compatible formats. The software can limit recording to a selected window or a rectangle area on the screen. Software also captures DirectX output properly.


CamVerce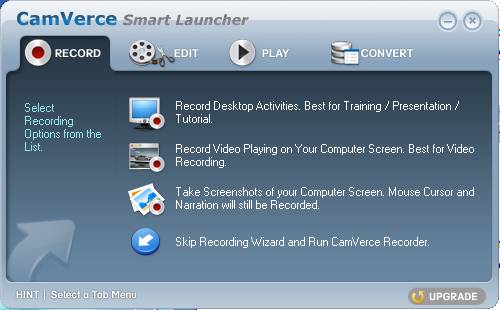 CamVerce can help Create professional looking multimedia presentations, interactive tutorials and training videos, video lectures or even record a video playing on your computer screen.


AimOne
AimOne Screen Recorder is a powerful video-recording software, allows you record the full screen, window or fixed-region to AVI or WMV files, You can even record audio into the video file, from any source.


Webinaria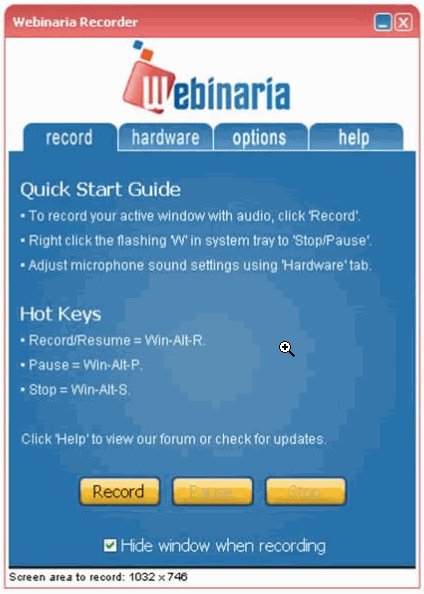 Webinaria software create Flash (AVI to FLV) recordings of your desktop. record voice commentary or with your presentation or demo. Save/edit your recordings to add voice, webcam or text.Increases sales conversion rates by 3 to 4 times with video.Reduce technical support costs with animated tutorials.Generate sales and links by hosting your video on our website.


---
Debut Video Capture is a simple, easy to use video recorder program that lets you capture video files directly using a webcam

Camtasia Studio 6 screen recording software for everyone.

Screen Virtuoso Records a desktop activity and saves it as AVI file

CamVerce Record your desktop create professional tutorial/training presentations

AimOne Screen Recorder ideal for making demos, tutorials, and training videos.

Webinaria software is a screen recorder that is free not a trail version free

Return from video capture software to video-software-house/home