Camtasia Studio 6 Editor's Review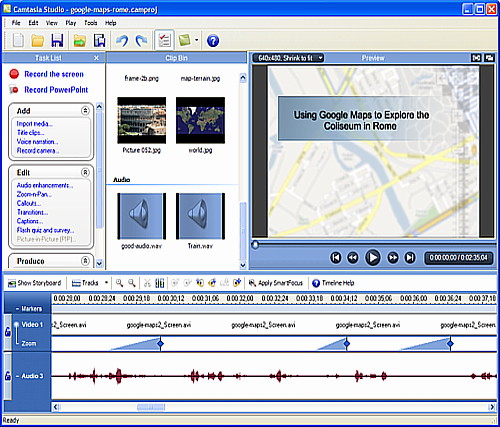 Introduction
Camtasia Studio 6 will cut your editing time, like a hot knife though butter, well maybe a little bit slower but you get the idea. Provide more editing control, and make you look better than brad pitt with HD-quality video.
Camtasia Studio builds more on the enhancements of the last software version, for example Smart Focus, which is a feature that automatically zooms and pans to follow the action, great of the kids sporting moments. Camtasia Studio includes built-in preset for You Tube meaning you can produce your desktop screen videos in a format that is best suitable for uploading the video on to You Tube.
Camtasia Studio editing features allow you to perform chain moves and have complete control over transition and call out fade durations to create more informative, polished videos. Camtasia Studio brings some really cool new features to this powerhouse of screen recording like 3D tilt effect adds depth to your videos and Your in total control over the length of transitions, callout and fades. Camtasia Studio lets you effortlessly record your screen and create HD-quality training and presentation videos.
Effects
With Camtasia Studio you can create screen casts and video tutorials in a friendly working environment, including sound, transitions, video effects and a customized intro menu. It has the ability to turn on and off cursor effects during recording. There are some handy video-wide effects, such as normalizing the level of the audio track to process louder and quieter passages. Add Emphasis by highlighting and altering cursor with onscreen visual effects. Camtasia Studio captures everything slide timing, animations, sound effects, narration, web cam video, and any web pages or applications displayed onscreen during your presentation.
Conclusion
It's reasonably easy to produce screen videos with Camtasia Studio 6, though the editing facilities, however you may find a bit of a learning curve to start off with. Based on early benchmark studies that have been conducted with Camtasia Studio 6 you could realize 20-40% time savings when editing large projects.
For those who also want to do static screen captures, you can get Camtasia Studio 6 bundled with SnagIt 9. , Camtasia Studio 6 supports HD-quality video for the Web and mobile devices which has new recording and editing features. You can produce vivid, high motion videos with Camtasia Studio 6 in a surprisingly short space of time. It is a one of the best screen recording system on the market today. The price well they not miss you with that at $299USD each for Camtasia Studio 6.0 Single User Electronic License.


Camtasia Studio 6 Features
Capture perfect-quality screen recordings
Camtasia Studio 6 captures video of anything on your screen, with no compromise between quality and file size. TechSmith compression technology gives you perfect-quality recordings and compact file sizes.
Don't worry about the final product, TechSmith's exclusive SmartFocus technology keeps track of where the action happens during your recording. Then it produces a video that zooms in on the parts you need to show, keeping viewers mesmerized...even on iPod-size screens. SmartFocus is completely automatic and incredibly freeing.
Camtasia Recorder 6 puts all your options in one spot, to get you started faster. Get started faster Grab the whole screen. Dial in your dimensions. Or select a window or region. Recorder can even lock onto an application window, providing a pixel-perfect fit between your subject matter and the recording area. And it remembers the dimensions and location of your last recording, so your next one will be consistent and faster.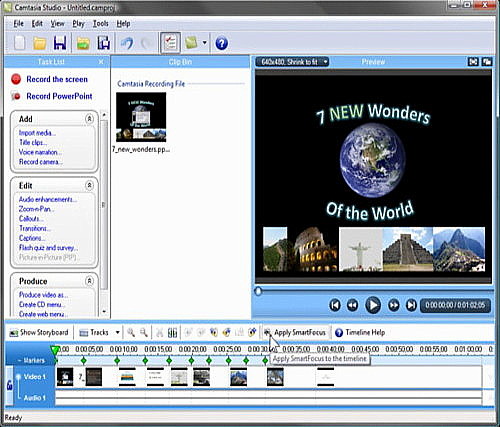 Add audio now or later
A picture's worth a thousand words, but even a video is helped by a little narration. With Camtasia Studio you can capture audio while you're recording or add narration and music later.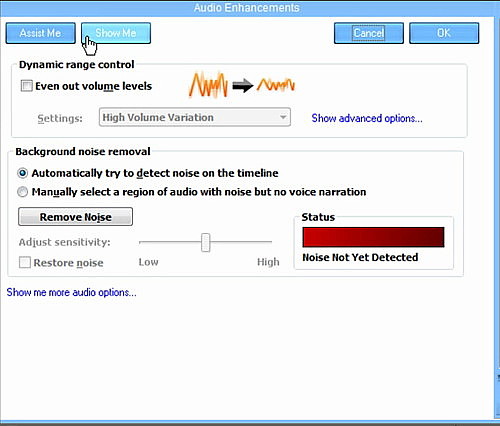 Convert PowerPoint to compelling video
The Camtasia Studio 6 toolbar inside of PowerPoint makes it one-click-easy to record your presentations, either live or from the comfort of your desk.
And you get much more than just a slideshow. Camtasia Studio captures everything—exact slide timing, animations, sound effects, narration, webcam video, and any webpages or applications displayed onscreen during the presentation. It's the next best thing to being there!
Connect with your audience
Get a stronger connection with viewers by letting them see who's talking. Simply aim a web cam at the presenter, and Camtasia Studio will capture and synchronize that video with the screen recording. Or import video files captured with a digital camcorder!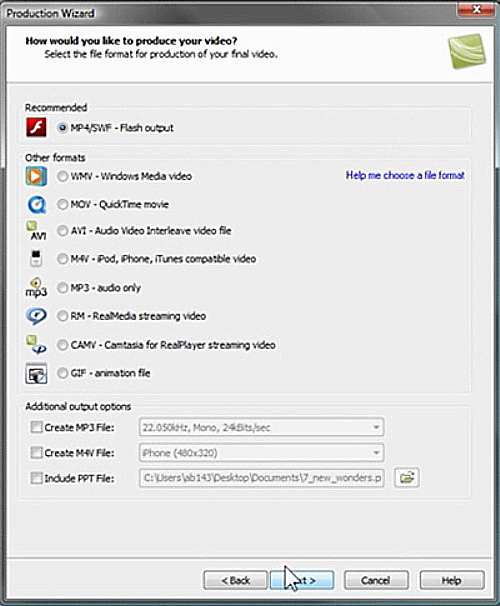 Record podcasts
You don't need a separate tool to create podcasts. Use Camtasia Studio to record high-quality standalone audio, and then publish it in MP3 format. Upload to iTunes. Talk to the world.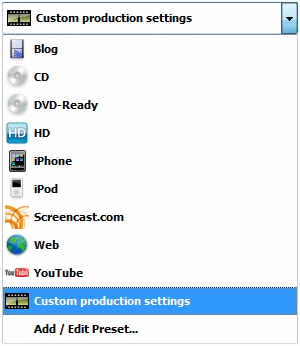 Make your point
Draw on the screen to illustrate or point something out. Highlight cursor movements and mouse clicks to help viewers follow the action. Set markers to indicate section breaks or rough spots that need editing.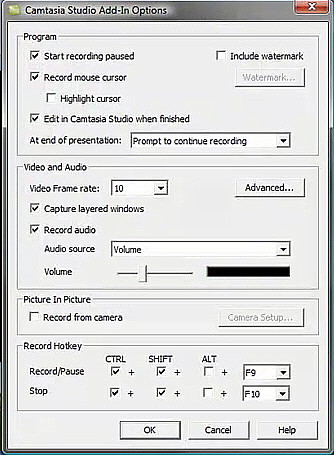 Preview the final result before it's final
Before you start editing, let Camtasia Studio 6 know where you intend to share your video—web, blog, YouTube, CD, iPod, etc.—and you'll see a live preview of the final result the whole time you're editing. No surprises!
Edit to perfection
What if I sneeze? Camtasia Studio 6 makes it easy to cut the sections of your video you don't want and rearrange the sections you do. Add, cut, splice, join, and move sections of video or audio. Decouple the audio and video tracks to edit them independently. Zoom in on the time line to edit each track with frame-by-frame precision.
Zoom and pan
You can always tweak the zooms and pans created automatically by Camtasia SmartFocus. Or simply add your own from scratch. Zoom in to show details, pan to move vertically or horizontally across the screen, and apply a tilt perspective to add depth and sizzle.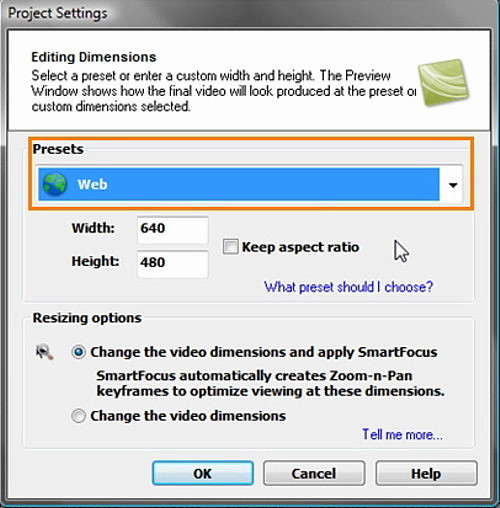 Delight viewers with photos and music
Don't limit yourself to screen capture video! Engage, inform, and delight viewers by importing other content. Digital video clips, photos, music, animations—Camtasia Studio 6 makes it a cinch to pull them into your project.
Professional polish
Title clips introduce your video with a splash, and are super easy to create. They also divide chapters, list closing credits, or provide contact information. Use any of the 25 transition effects to move smoothly (or whimsically!) between clips. Plus, Camtasia Studio 6 gives you tools to enhance and optimize audio quality.
Embed closed captioning
Make your videos more accessible for hearing impaired viewers, or for those who speak other languages, by adding closed captioning (subtitles) on or below your video.
Put the presenter inside or beside
Give your video a personal touch by displaying the presenter with the presentation. Web cam video can be embedded in the screen capture video (picture-in-picture) or placed next to it (side-by-side).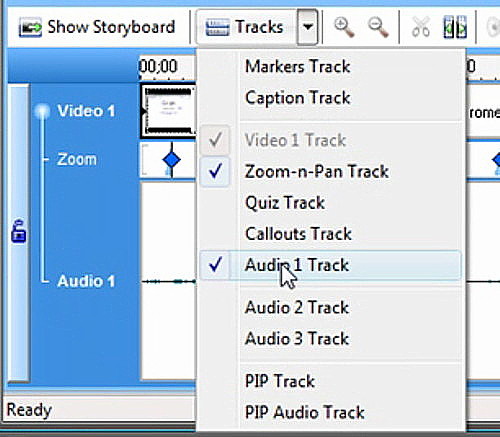 Engage audiences with callouts and Flash interactivity
Add a spiffy-looking arrow to direct attention. Closed captioning Use a speech bubble to provide details. Shine a virtual spotlight on your content. Turn a static presentation into an interactive experience with click able Flash hot spots. Jump viewers to a specific place in the video or to an external web page. Not a Flash developer? No worries...Camtasia Studio 6 makes it all drag-and-drop simple.
Measure impact with a quiz or survey
Want to know what your viewers think or how much they've learned? Ask them! Camtasia Studio 6 makes it very, very easy to embed Flash quizzes or surveys anywhere in your video. Ask multiple-choice or open-ended questions. Responses can be sent to a SCORM-compliant learning management system or your e-mail inbox
Share widely
Camtasia Studio 6 makes it a piece of cake to share video in the format and size your audience wants. Mac or PC, 24-inch widescreen or iPhone, here, there, anywhere.
High quality video every time
Want to produce a video at the right size and settings for You Tube? Just click the You Tube preset. Want video optimized for iPods, iPhones, or your blog? It's only a click away.
In fact, Camtasia Studio 6 produces sparkling, HD-quality video with compact file sizes for the web and mobile devices...straight out of the box!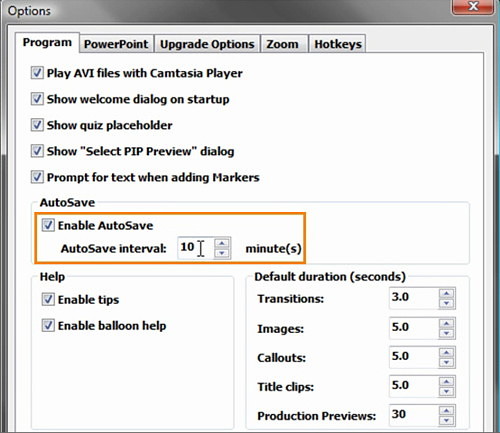 Produce in virtually any file format
Maybe you have specific requirements or maybe you just love to tinker. Camtasia Studio 6 lets you tweak production settings to your heart's content, and makes it easy to generate and compare a 30-second preview at each setting.
You have the flexibility to produce videos in any of today's (or tomorrow's) popular formats! Right now, the list is:
* Web & blog (MP4)
* Flash (SWF)
* iPod/iPhone/iTunes (M4V)
* CD/DVD/lossless export (AVI)
* Silverlight-compatible WMV
* QuickTime (MOV)
* RealMedia (RM)
* Animated GIF
* Audio only (MP3)
Produce once, into multiple formats
Give the audience multiple playback options with no extra work. Simply choose the primary file format you want, then add on an iPod/iPhone, MP3, and/or PowerPoint file, and produce them all at once!
ExpressShow
The TechSmith ExpressShow® template puts your video into a sleek package that can be easily embedded into any website, blog, or multimedia project. With a glossy thumbnail image, full-screen playback option, and customizable table of contents, ExpressShow makes you look good. Very good.
Blend your videos perfectly with existing websites and multimedia projects by customizing the start and end screens, backgrounds—even the About boxes—with your colors, text, or brand.
Customize playback controls and pre-loaders
Camtasia Studio 6 customizable playback controls and pre-loaders give you the flexibility to match your videos to a corporate image, or just give them a newer, cooler look. Choose from a variety of styles during production or delve into the source files to create your own styles from the ground up.
Clickable Table of Contents
Help viewers navigate your content. Camtasia Studio 6 makes it easy to create an interactive table of contents within a single video. Or, if you have a series of videos that you'd like to link together, you can use either Camtasia Menu Maker for CD delivery or Camtasia Theater for web delivery. These companion applications are included with Camtasia Studio.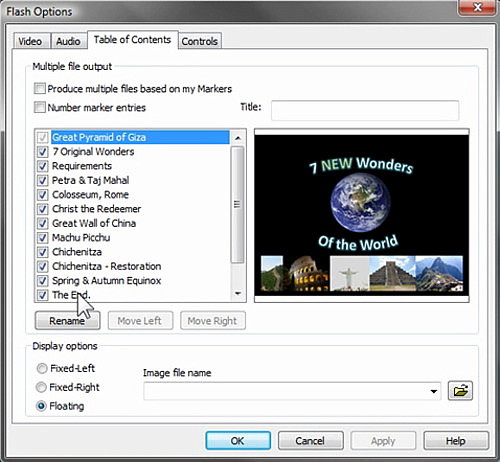 Seamless publishing to Screencast.com
Screencast.com is a unique video sharing service—brought to you by TechSmith—that preserves the quality of your videos and gives you complete control over who sees your content. It even has built-in RSS and iTunes functionality, making it a snap to deliver videos or podcasts straight to your viewer's computer or mobile device.
Screencast.com is also the easiest way to get your videos online. From within Camtasia Studio, simply choose the Screencast.com preset to produce and upload an HD-quality video in one step!

I f you don't have a Screencast.com account Get one now—free! (2GB storage; 2GB monthly bandwidth; never expires.)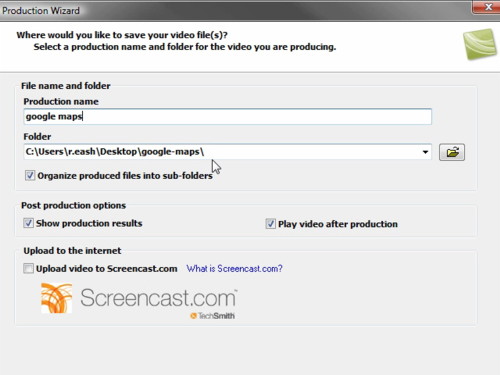 Minimum Requirements:
* Microsoft Windows XP or Windows Vista
* Microsoft DirectX 9 or later version ~ Recommended:
* 1.0 GHz processor minimum ~ Recommended: 3.0 GHz (for PowerPoint and camera recordings.)
* 500 MB RAM minimum ~ Recommended: 2.0 GB
* 115 MB of hard-disk space for program installation ~ Recommended:



---
Return from Camtasia Studio 6 to video-software-house/home

Back to video capture software from Camtasia Studio 6
---