Video Conferencing Software
With a number of good video conferencing software out there to help you it will not be a problem to find one that will suit your needs below are some Q&A to look at and down the bottom of the page are a list of some Video Conferencing Software.
What is video conferencing ?
Video conferencing is a method of communication using electronic devices to provide live video and audio between two or more sites. The conferences may be between individuals or groups at each site.
e/pop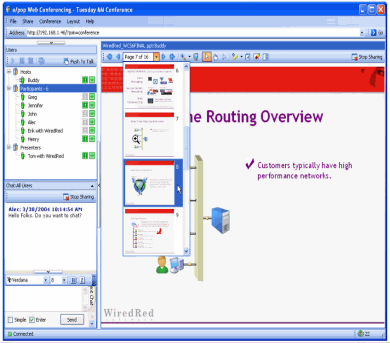 e/pop video conferencing software provides state-of-the art PowerPoint, document, application and desktop sharing, remote control, and multiparty audio and video conferencing. From quick web meetings to full-featured conferences with multiple presenters, e/pop makes it fast and easy. Click the picture above to read more. Click the picture above to read more.
---
Why do we need video conferencing ?
Videoconferencing enables people to interact and call meetings at a moments notice between distant parties. They can talk through ideas and exchange information as if they were in the same room. The result is increased productivity and reduced costs. This is partly due to fewer travel, accommodation and entertainment expenses, but more importantly because of the time saved by not traveling to meetings. video conferencing enables faster decision-making.
What can we do with video conferencing software ?
Video conferencing software allows you to meet for scheduled or unscheduled meetings, crisis resolution, interviews and design meetings. It also allows you to meet clients or suppliers, distribute expertise more effectively, run training courses, and play a video tape via remote vision. video conferencing enables you to show objects, documents, photos and high res still images. You can also share printed documents, electronic whiteboards, give a PowerPoint presentation and record the entire meeting on video. With Sony video conferencing , you can do virtually everything you do in a face-to-face meeting.
HoneyQ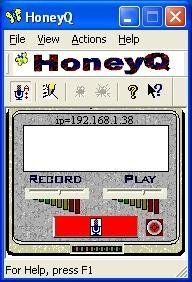 aIf you have ICQ, you'll love this program. HoneyQ video conferencing software automatically registers itself with ICQ the first time you use it. Whenever you want to conference with someone on your friends list, just right click and select external program, Honey Q. Within moments you'll be connected and chatting away. Perfect for Grandparents, friends, and lovers. Click the picture above to read more. Click the picture above to read more.
---
What makes up a Video conferencing system?
A basic video conferencing system includes a Video camera, microphone, CODEC, video monitor, speaker and network connection and Video Conferencing Software.
What is a CODEC?
A CODEC is the equipment that processes the video and audio signals and manages the communications. The CODEC converts analogue audio and video signals to digital signals and than compresses and transmits these to the distant site where they are decoded, expanded and played out on the monitor and speakers.
What is ISDN?
ISDN (Integrated Services Digital Network) is just like a telephone line, but is fully digital so you get a guaranteed data rate. ISDN is available virtually everywhere in the world. Calls are charged based on time and distance.
SightSpeed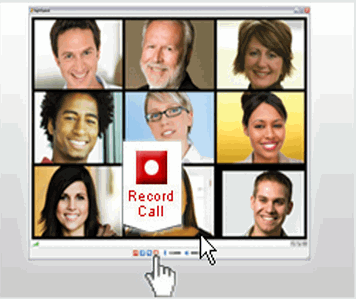 SightSpeed video conferencing software is a provider of Internet video chat and voice calling for friends and family, and video conferencing solutions for businesses. Sight Speed make it easy to install and set up so you can.
* Connect with everyone in your network, face to face, anyplace
* Save time, hassle, and money spent on travel
* Help save our environment by minimizing your carbon footprint!* Click the picture above to read more.
---
What standards should I look for when purchasing my video conferencing System?
For video conferencing on ISDN, look for compliance with the H.320 standard or over your IP network look for compliance with the H.323 standard. This ensures connectivity, pictures (H.261) and sound (G.711). Extra features included as options under H.320 & H.323 include far end camera control and input selection (H.281), better audio quality (G.722 and G.728) and better video quality (H.263 or H.264). For Dual stream the new standard is (H.239).
How can I include other resources into my video meetings?
Most video conferencing systems support at least one extra (auxiliary) video input, apart from the main camera. This input can be used to connect a document camera so that you can include hardcopy documents, objects, OHP slides, printed photos, medical images or 35mm slides into your video meetings. You can also connect a VCR or Handycam to replay video footage. Sony video conferencing systems also include a memory stick slot to store and transmit presentations in the form of JPEG images from a PC or photos from your digital camera. You can also record the video meeting on a VCR for reference later.
Dwyco Video Conferencing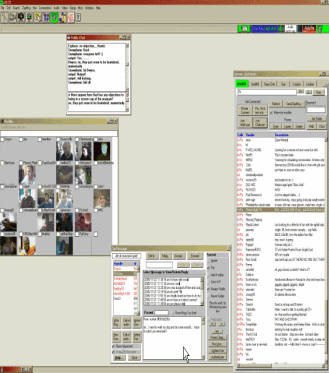 Dwyco Video Conferencing CDC32 is distributed as freeware. You can use it as a chat system as long as you like, and you will probably never be asked to pay for it. If you use the system in a manner that is different than this, then you may be asked to pay for the program. In addition, there are several advanced features in cdc32 that are available as a trial (such as hi-quality video recording). Click the picture above to read more.
---
How do I connect images from my PC into the video meetings?
There are several ways to do this including:
* The easiest way is to directly connect your PC to the videoconferencing system. To do this you will need to have the optional Data Solutions Box. Your PC images can be displayed at the near and far ends in their native format (XGA) if you have a data solutions box at both ends.
* You can convert your PowerPoint presentations to JPEG images and save these to your memory stick. This allows you to share your saved images with the remote site and all you need to bring to the meeting is your memory stick!
ClearPhone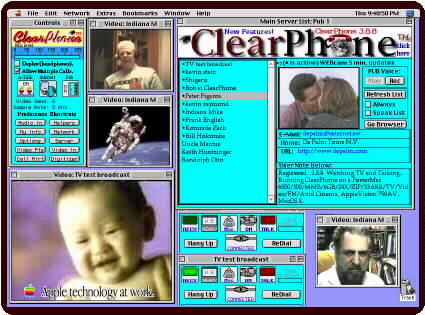 The Clear Phone program accomodates Corporate users with Private PUBs that may be used as worldwide meeting places for managment, sales and other groups within the company for the purpose of video conferencing via the Internet without allowing incoming calls from the general public.
---
CU-SeeMe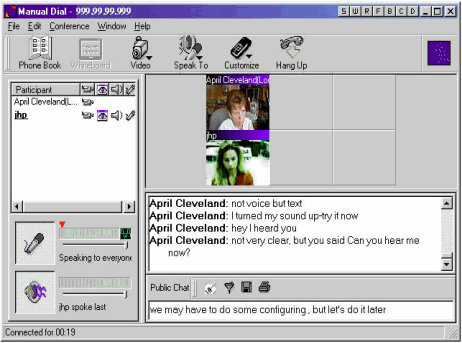 CU-SeeMe is an Internet video-conferencing client. The software can make point to point video calls without a server or make multi-point calls through server software first called a "reflector" and later called a "conference server" or MCU. Later commercial versions could also make point-to-point or multi-point calls to other vendor's standards-based H.323 endpoints and servers.



---
Return from video conferencing software to video-software-house/home page

This will take you to CU-SeeMe

What is ClearPhone?

Dwyco Video Conferencing talk to multiple people at the same time on your PC

SightSpeed can connect with everyone in your network, face to face, anyplace

HoneyQ lets you in moments be connected and chatting away. Perfect for Grandparents, friends, and lovers

e/pop Best Video Quality in a Multiparty Software Product