ClearPhone
All Features are supported on Macintosh and most on the Windows versions.
* ClearPhone Multi-connect Group conferencing with Hi-Res "always clear" Video and Hi Fi Audio
* Full and half duplex voice and video transmissions
* File transfers with Post Document processing and group file sharing
* Send and receive Streaming Audio and Video for online TV broadcasting
* Works well on Ethernet, Internet, and Appletalk at any connect speed
* Multi-Browser Bookmark archive supports all major browsers
* WEB camera provides live updating crossplatform video
* Direct calling via IP address, browser paging, E-Mail paging
* Selectable bandwidth audio and video transmission rates
* Processor friendly, allows WEB browsing while conferencing
* Call waiting, hold and mute functions
* Private and secure point-to-point voice and video transmissions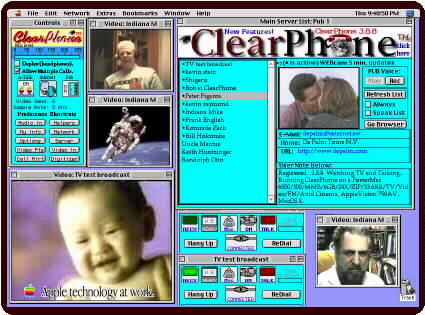 * Redundant Servers provide 24 hour dynamic IP address for direct dialing
* Real time Active Online User Phone book lookup directory
* Quicktime™ Recorders for Compact Crossplatform Voice, Video E-Mail, WEB movies
* Remote controlled Interactive (group) WEB Browser supports real time URL sharing
* Online Private Internet Answering Machine with text and voice messages
* White-board and Clipboard transfer of graphic, text, and voice chat
* Supports "Internet Config" file mappings and application launching
* Online server IP connection to your Hotline™, and other WEB servers
* User programmable options to preselect all variables
* Works with all 32 bit clean 040 and Power MAC's
* For More Information please read the Clear Phone online manual
* Create your own Clear Phone Photo album
* Send Video & Voice E-mail to anyone on the Interenet!
New ClearPhoneProPPC™ Version 6 features:
* Clear Phone now allows for variable router (Nat table) Port assignments (4 per PC). The user programmable Ports support audio, video and data transfer to receiving calls and send audio and video from behind firewalls. Note: NAT router table easy setup required.
* Firewall incoming calls are compatible with IPnetrouter and similar router/firewall applications
* Multi-threaded event processing results in faster program execution and speeds up all functions
* Clear Phone option allows you to install a script to make direct Calls from AOL's "instant messenger" program to other active ClearPhone users
* Clear Phone Installer provides a program auto start boot up option for ClearPhone
* Conferencing speed of audio and video are much faster than earlier versions
* Compatible with Apple Systems 8.1 through Mac OS-9 (System 8.6 or 9.0 strongly recommended)
* Watch Quicktime Streaming TV/radio broadcasts and all Quicktime 4 available formats
* 100's even thousands can view live broadcast
* Play MPEG audio, files with "import Quicktime file" selection
* ClearPhoneProPPC™ version 6.0 starts a new 30 day demo even if you have tried Clear phone before.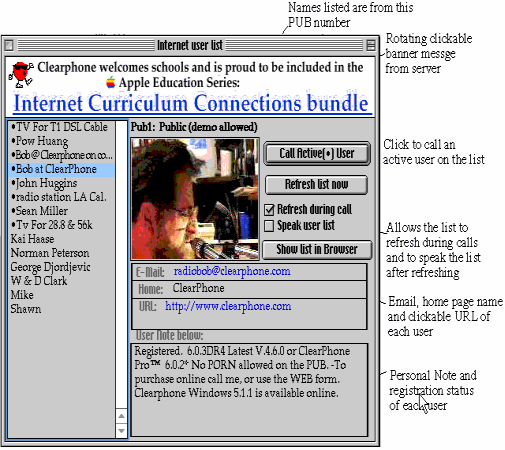 Corporate Private PUBs
The Clear Phone program accomodates Corporate users with Private PUBs that may be used as worldwide meeting places for managment, sales and other groups within the company for the purpose of video conferencing via the Internet without allowing incoming calls from the general public.
The private PUBs are enabled for each member of your company or group, by using a private access code. Excellent company security is maintained on the private PUB at all times. The highly reliable PUB is located on Clearphone's 24 hour a day, independent redundant servers. The general PUBs user lists are also available to corporate private users and may be accessed directly when they are not using the private PUB for log on.
Video Conferencing between members of a company are completly private and therefor only those individuals with valid access codes are allowed to log on to be seen on the list and to call users within the private group. Individuals with the correct access code may log on at any time for group conferencing. Other usrs of Clear phone not part of the company group may be brought into the group discussion by furnishing them with the current IP address of parties within the group that wish to communicate with that person. The Clear Phone uses a propriatary data format that cannot be decoded by a third partyunless they are connected to that person directly while using the Clear phone program.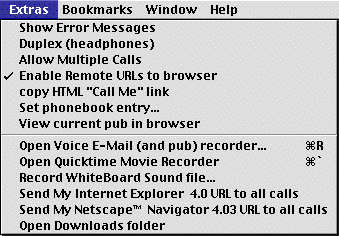 A new security feature available on the Clear phone server PUB (version 3.0.3) allows a person in charge within your company to easily remove any individuals that violate the rules of PUB, or when it is necessary to terminated employees that may still have access to the private PUB.
A banner or company logo can be installed on the server PUB for your company or private group. Special group prices are available for group registrations and for private PUB usage and installed company Logo banner.
The Clearphone menus shown below are accessed by using the "Network" Menu and it's sub menu named "Switch PUB". Your private company or group will have a unique PUB number and Password. Once this information is entered the PUB will be available for your exclusive use.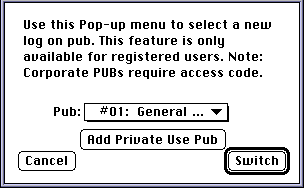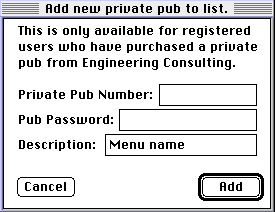 ---
Return from ClearPhone to video-software-house/home page

Return back to video conferencing software