HoneyQ
ICQ friendly
If you have ICQ, you'll love this program. HoneyQ automatically registers itself with ICQ the first time you use it. Whenever you want to conference with someone on your friends list, just right click and select external program, Honey Q. Within moments you'll be connected and chatting away. Perfect for Grandparents, friends, and lovers. Honey Q does not need ICQ once you're connected, so even when ICQ goes down, you're still chatting away. In other words, Honey Q does not use the ICQ servers. If you don't have ICQ then we can supply it on the Honey Q CD-ROM or ... Download it here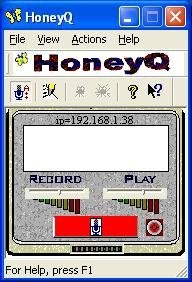 Video
Video images are captured and shared using any Windows-compatible camera or video card. Fast video compression speeds images over the network. Video images you see can be stretched to any size giving the size of picture you want to see. You can also change image resolution at any time during your session. A feature not supported by any other video conferencing program.
Voice
Send voice over the Internet using any Windows compatible sound card. It also supports full duplex sound cards. If it works in Windows it will work with Honey Q. For natural-sounding voice communication, Honey Q uses the software compression built into Windows or your sound card if it has hardware compression.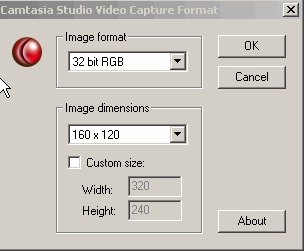 MiniMe's
Instant messages we call MiniMe's. It's great fun. Use your camera to snap a picture and send instant messages and to anyone on your online list.
File Transfer
Files of any size can be transfered to all group members. Share a picture of the family. Transfer a map while describing directions. Show a chart, then make changes and download in real time. Does not rely on ICQ server to send those files. ICQ slow today? Use Honey Q instead.
ShareSpace - a shared whiteboard
Draw figures using the line, oval, rectangle and scribble tool. Capture the video image of the person you are talking with. Copy and paste images from other Windows applications to share with others. Move the image around to position it more to your liking. When your all done save the image as a bitmap to the disk.
Direct connection
You don't need the ICQ server once you're connected. You can even close ICQ, if you wish. Honey Q does not load the ICQ server in any way.
System Requirements
Windows 95/98/2000/XP, 486-133Mhz or faster, sound card with michrophone, Internet connection through PPP or SLIP or local are network using TCP/IP protocol. Video for Windows video capture card or camera optional. A copy of HoneyQ at both ends.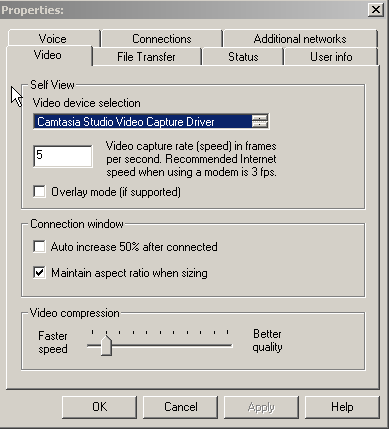 Download HoneyQ here
---
Return from HoneyQ to video-software-house/home page

Return back to video conferencing software