CU-SeeMe
(also written as CUseeMe or CUSeeMe depending on the source) CU-SeeMe is an Internet video-conferencing client. The software can make point to point video calls without a server or make multi-point calls through server software first called a "reflector" and later called a "conference server" or MCU. Later commercial versions could also make point-to-point or multi-point calls to other vendor's standards-based H.323 endpoints and servers.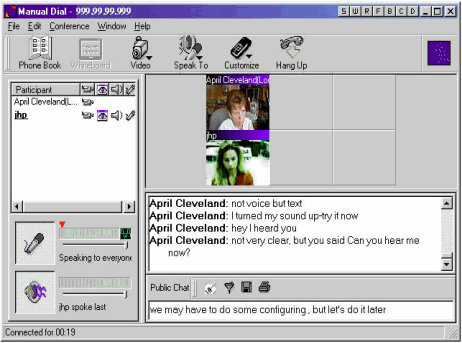 Click Here to download CU-See software Free
History
The software was originally written by Tim Dorcey of the Information Technology department at Cornell University. It was first developed for the Macintosh in 1992 and later for the Windows platform in 1994. Originally it was video-only with audio added in 1994 for the Macintosh and 1995 for Windows. Sudio came from Maven, an audio-only client developed at the University of Illinois at Urbana-Champaign.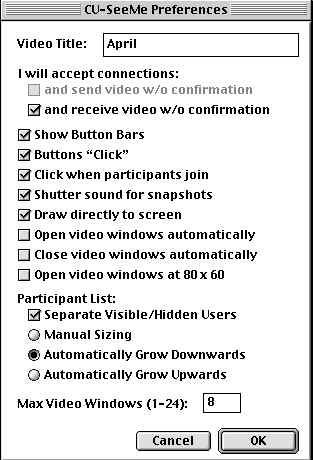 From freeware to commercial
The commercial licensing rights were bought by White Pine Software in the mid 1990s (approx. 1995); CUSeeMe was then released as a commercial product. Some users believe that White Pine Software ignored the product's original hobby market. The discussions about the abandonment of the hobbyist market had some merit, but in reality White Pine never attempted to squash the freeware; it merely refrained from actively promoting it.
A nascent market - Quality perceptions and reality
While not directly competing against hardware-assisted video-conferencing companies, it suffered in that the nascent market was expecting hardware quality audio and video when CPUs of that time weren't really ready to support that quality level in software. Early wide acceptance of the software outside of the hobbiest market was limited by its relatively poor audio/video quality and excessive latency. While the commercial and freeware products were useful to hobbyists, Its accompanying server product were beginning to build a following in education - with up to 40% of commercial sales in the EDU space. (A spinoff application called ClassPoint which was based on CUSeeMe and the conference server was released commercially in 1998 as an attempt to leverage the education vertical more directly.)
The United States military was a large customer of the technology, making use of the CU-SeeMe Conference Server MCU for many applications, including leveraging the T.120 server for Microsoft NetMeeting endpoints.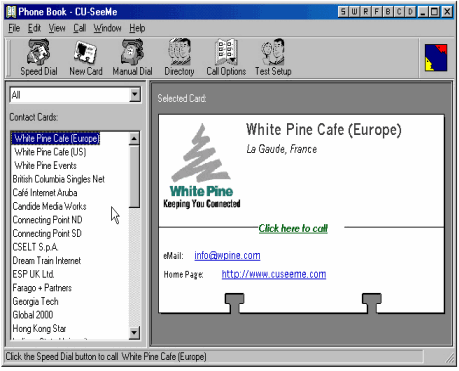 Changing names and changing hands
White Pine Software was briefly renamed CUseeMe Networks, then merged with First Virtual Communications; at some point the commercial standalone client was decommissioned. (An independent company used a version of the embedded commercial software client renamed CU as part of a fee-based video chat service called CUworld.) The commercial client and server environment evolved further, was renamed "Click To Meet" and along with a much-enhanced and more scalable version of the software MCU, became the major offering of First Virtual.
On March 15, 2005, Radvision Ltd. acquired substantially all of the assets and intellectual property of First Virtual Communications (FVC), including its Click to Meet (formerly CUSeeMe) and Conference Server MCU solutions. The descendants of the software technology live on in part in the Radvision Scopia product line.
There is still a small but active community of users of the original software releases. Although there have been no releases of software from the various incarnations of White Pine since roughly 2000, freeware alternatives are available for both the Windows and Macintosh platforms such as VChat for OSX and Cindy for Windows PCs.
Due to the lack of free and open source, cross platform alternatives we started openCU , an open source and free client implementation of the CUSEEME protocol
CU-SeeMe as part of the legacy of the early Internet
The CU-SeeMe software name and legacy remains important for a number of reasons.
(a)The software was an early, widely recognized internet brand that pre-dated the web browser.
(b) CUSeeMe software foretold the wide acceptance of video chat in a number of markets, and was likely the first product to be referenced using that term (citation unavailable at this point)
(c) CUSeeMe software software on the client and server side was one of the first platforms that proved that IP networks could be effectively used for real-time communication and collaboration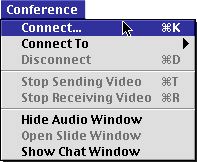 ---
Click Here to download CU-See software Free

Return from CUSeeMe to video-software-house/home page

Return from CUSeeMe to video conferencing software



Return from CU-SeeMe to video Hosting Service