Dwyco Video Conferencing
The Dwyco Video Conferencing System (CDC32) lets you see and hear the people you meet online, in real-time.
Dwyco Video Conferencing CDC32 is distributed as freeware. You can use it as a chat system as long as you like, and you will probably never be asked to pay for it. If you use the system in a manner that is different than this, then you may be asked to pay for the program. In addition, there are several advanced features in cdc32 that are available as a trial (such as hi-quality video recording). To use these advanced features after the trial period requires a subscription. Even after the trial features expire, cdc32 is completely functional, just with somewhat lower quality video (for example.)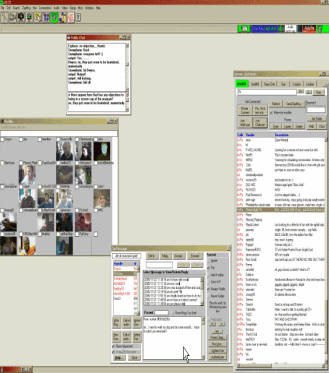 Buy a Subscription
If you are asked to pay for the program, you can buy one of several subscriptions to the Dwyco service. The subscription allows you to use the Dwyco service without restrictions (except for the obvious, "no illegal stuff" restrictions.) Please note: the subscription allows you to access the Dwyco servers in order to fetch and send messages, see the directory, etc. Even if your subscription expires, you can still access all the messages that are stored on your hard drive (i.e., the ones you have already received.) Please also note that the subscription does NOT automatically renew itself. You can buy a new subscription any time if your current one expires. There is no need to reinstall any software.
Dwyco Video Conferencing uses Plimus to process orders for Dwyco. Plimus accept a large variety of payment methods, different currencies, etc. Click this link to visit there store at plimus.com to purchase your Dwyco service subscription (starting as low as $9.95USD for unlimited use!)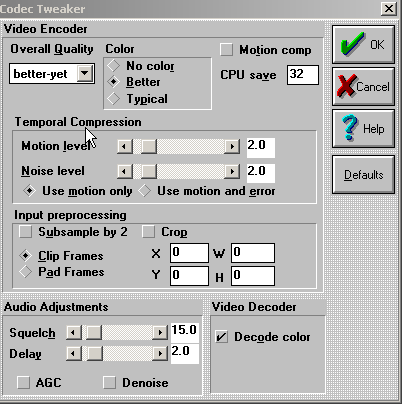 Features in version 2.97
* It's FREE, NO spyware, NO adware, NO popups
* Color real-time video
* G-rated and Adult directory listings.
* Different servers and directories for different interests.
* Public and Private chat
* Full Audio Conferencing, talk to multiple people at the same time on your computer.
* Zap Messages, which allow you to send and receive audio and video messages, even when someone is not currently online.
* IGNORE feature so you can avoid the people on the web that are less than couth.
* Chat rooms can be created by anyone, and protected with a password, so you can have private chat rooms.
* Easy multiuser conferencing is as simple as entering a room and clicking one button!
* Setup Wizard that helps you through setting up your video and audio systems.
* File transfers while conferences are in progress.
* Handles multiple connections at the same time.
* Flexible video quality adjustments, works with the lowest modem speeds to the fastest network connection.
* Call screening using optional password.
* Flexible call management allows you to decide how many calls to accept at a time. Great when using cdc32 as a broadcast server.
* Allows video and audio adjustments without having to disconnect from remote users.
* Supports both half-duplex and full-duplex audio hardware.
* Easy to install and setup.
* No-risk installation. Unlike other systems, Dwyco video conferencing software does not overwrite any of your Windows system files.
* Works with virtually any video hardware supported by Windows95/98/NT4/2000/XP that supports a raw RGB or YUV capture format.
* Works with virtually any audio hardware that supports 8000Hz, 16-bit sampling.
* Completely automatic and flexible data rate adjustments allows you to avoid overloading your network link. Great when using cdc32 as a server.
* Dwyco directory service allows you to find other cdc32 users, even if they have dynamic IP addresses.
* Text chat can be used even if you don't have any multimedia hardware.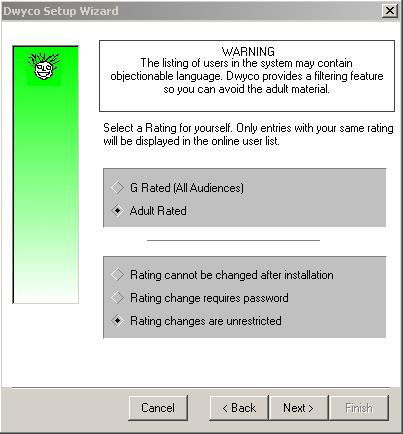 Microsoft Windows XP Service Pack 2
Updating to Service Pack 2 generally will cause no problems with cdc32, EXCEPT in these cases:
* If you use the multi-chat features of Dwyco Video Conferencing CDC32, and notice there is a performance problem, Generally there hasn't been problem since Dwyco redesigned some of the connection handling in CDC32. Dwyco still provide this pointer in case you are having troubles.
* Your video capture drivers are old. We have had sporadic reports of people's cameras not working after an SP2 update. Usually a driver update will fix the problem. Visit the camera manufacturer's website to check for updates.
* You attempt to use the Windows provided "Windows Firewall". Dwyco can reproduce this problem in-house where the windows firewall will drop some traffic after a period of use. The results are messages from CDC32 indicating that it cannot log in to the pal server. The problem can be solved by rebooting, but a better solution is to use one of the many third-party personal firewalls available, such as Zonealarm, Kerio personal firewall, Sygate personal firewall, to name a few (these are the ones Dwyco have tested and use on a day to day basis for testing.) When you use these other firewalls, you MUST TURN OFF THE WINDOWS FIREWALL.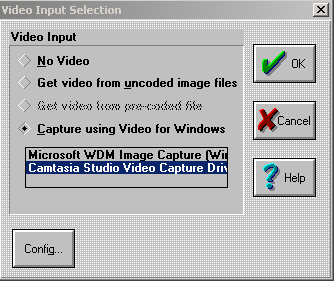 Dwyco PowerBrowse
Dwyco PowerBrowse lets you view your saved CDC32 and ICUII messages in a quick and easy to use browser format. Features at a glance:
* Thumbnail views of all messages that have video or picture.
* Ability to play messages either in thumbnail format or in large (or zoomed) format.
* Message index that lets you see what types of media are associated with each message: audio only, video only, picture, etc.
* Simple message filtering so you can choose not to display messages with only text.
Dwyco PowerBrowse is the easiest and fastest way to view your existing CDC32 and ICUII messages. PowerBrowse is an add-on that works independently of your video program.


Click here to download Dwyco PowerBrowse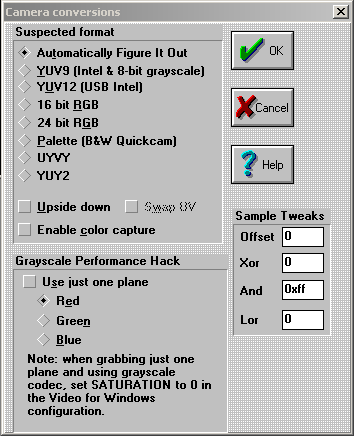 ---
Download Dwyco Video Conferencing (CDC32)


Return from Dwyco Video Conferencing to video-software-house/home page

Return back to Video Conferencing Software