SightSpeed
SightSpeed is a provider of Internet video chat and voice calling for friends and family, and video conferencing solutions for businesses. Sight Speed make it easy to install and set up so you can.
* Connect with everyone in your network, face to face, anyplace
* Save time, hassle, and money spent on travel
* Help save our environment by minimizing your carbon footprint!
Sight Speed patented video technology ensures you get the best possible video and sound quality every time, unlike other online video services. They offer the highest-quality, full-motion 30 frames per second video with clear audio and no annoying delay.
you can easily send video email which is much more personal than the traditional email and text chat endlessly with our integrated instant messaging (IM) service. The Sight Speed also offers low-rate worldwide phone calling. And Sight Speed works great on both PCs and Macs!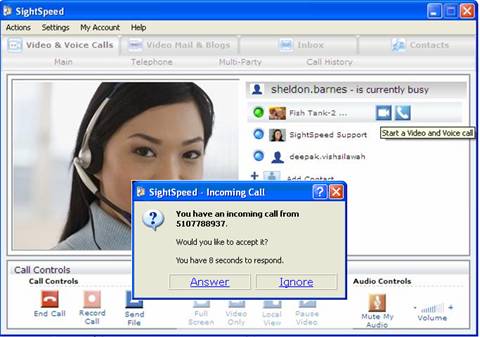 Sight Speed for home: The free and plus versions
Unlimited Video Chat
* The best possible video and sound quality
* Unlimited video chat – Call anyone in your network, anytime
4-Way Multi-Party Chat
*See & hear up to 4 people at once
Not available in Free version
Computer-to-Computer Voice Calling (PC & Mac)
*Free worldwide calling between any two Sight Speed users, even without a Web cam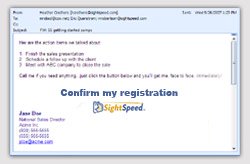 Worldwide Phone Calling (Landline & Mobile)
* Call any phone (landline &/or mobile) worldwide
* Average long-distance rates worldwide = $.02 per minute
* Requires Credit Purchase
* No connection fees
* No hidden charges
Local Line
* Your computer works just like a mobile phone – receive calls from landline or cell phones
* Purchase a local area code number so family & friends can call you inexpensively
Text Message (Instant Message)
* Works with your contact list; Works within a call too
* 4-way Text Chat
Free version: 1-to-1 Text Chat
Record & Send Video Mail
* Record & send high quality Video Mail messages to any email address
* Up to 3 minutes of record time
Free version: up to 30 seconds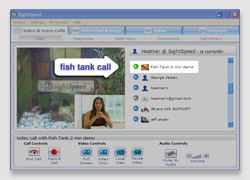 Video Mail Inbox & Storage
*Unlimited Video Mail storage
Free version: Video Mails last 30 days
Always Available
* Receive video and/or voice messages if you can't answer an incoming call
* Receive missed call email notifications
Custom Click-to-Call Me Buttons
*Give anyone a quick way to call you by placing a button on your website, email signature,or blog
Not available in Free version
Availability Info
* See who is available in your network to video and voice call or Text Chat/IM
* Set your own status – Available, Away, Do Not Disturb or Invisible stealth settings
SightSpeed Community
* Find like-minded people to talk to
* Make friends & share stories face-to-face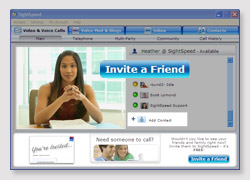 ---
Business Video Conferencing for Every Business
SightSpeed high quality, cost-effective and easy-to-use video conferencing solution for every business. Unlike some traditional high cost, room-based hardware systems, SightSpeed Business also is fully portable all you need is a webcam and broadband connection.

FEATURES
Unlimited Video Calling
* quality video solution Best possible video every time
* Keep business face to face and win customers over
* Eliminate travel cost and hassle
* Help save the planet by minimizing your carbon footprint
* Easily invite customers, employees, and colleagues to talk to you via SightSpeed video or voice calling for free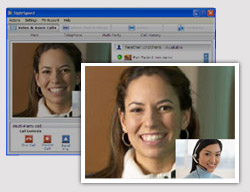 Unlimited Multi-Party Video Conferencing
* Connect up to 9 locations worldwide at one time
* Conduct simple training sessions, present sales presentations, or provide company updates, face to face, across multiple sites
* Build strong relationships with your employees and customers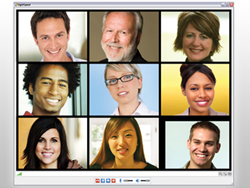 Video Mail
* Works just like email Send videos directly to any customer or employee email inbox
* Record extended video mails up to 5 minutes in length
* Put a face to your brand with "high touch" emails to your customers A great sales tool with response tracking
* Works with all major email software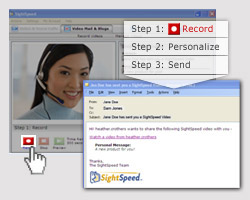 In-Call File Sharing
* Keep everyone on the same page while you're on a call
* Just 3 clicks and you're sharing files on the fly
Multiple Video Viewing Modes
* "Video-only" viewing mode lets you view conference attendees without obstructing the view of your desktop; following along on the file you are sharing
* "Always-on-Top" viewing mode lets you toggle between desktop applications or files without losing sight of your conference attendees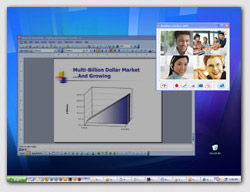 Unlimited Video Mail Storage
* Keep all your video mails in one place
* Playback anytime
* Keep track of the responses for each of your video mails for future reference
Video and Voice Call Recording
* Never take copious notes. Open up previously recorded video or voice call for reference
* Attendees missed the meeting? No problem. Forward on the previously recorded call.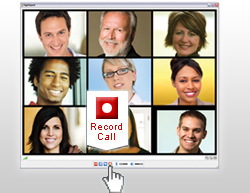 Never Miss a Call
* Voicemail/Videomail gives the option to leave video/voice messages if you can't answer an incoming call
* Quick call alternate... Fellow SightSpeeders calling you get a click-to-call alternate number for you if you miss their call
* Email notification... SightSpeed sends you an email message if you miss an incoming video call
* Your own inbox keeps track of any incoming calls you missed
Custom Click-to-Call Me links
* Give fellow users a quick way to call you by placing a button on your website, email signature, or blog
* Take them to your branded SightSpeed mini-site housing your business contact information and a way to quickly place a video or voice call to you
* Use a custom logo for your click-to-call button to further build your brand
Unlimited PC-to-PC Calling
* Free worldwide internet calls between any two SightSpeed users
* PC works just like a cell phone...supports both Mac and Windows
* Reliable connections
Worldwide Calling at a Fraction of Long Distance Rates
* Stop paying long distance rates for your worldwide business calls
* Average rates within the US are $.02 per minute
* Rates outside the US as low as $.02 per minute
* Purchase a local phone number so all your colleagues and customers can call you on Sightspeed inexpensively from their landline or mobile phone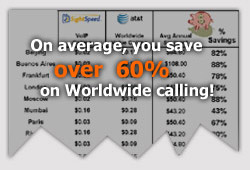 500 Free U.S. or Canada Calling Minutes
* Get started calling right away with these 500 starter minutes
* Call any landline or mobile phone in the US or Canada for FREE
* Call landlines or mobile phones Worldwide for significantly less than regular long distance carriers
* Easily buy additional minutes right from within the product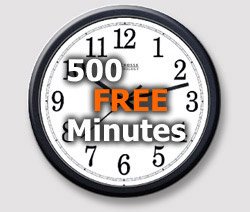 Unlimited Text Messaging
* Start up a text message conversation from within SightSpeed to anyone on your contact list
* Instantly chat with one or all attendees on your Multi-party video call
Administrative Console
* Easily add, change, manage your SightSpeed users centrally for more efficiency and consistency across your company
* Build and share a contact list across your company users; reducing their set up time
* Centrally purchase and allocate calling minutes and custom phone numbers
Detailed Call History
* Track usage and cost by employee or for the company using our detailed and flexible call reporting
* Export your report data via .CSV files to easily conduct more detailed analysis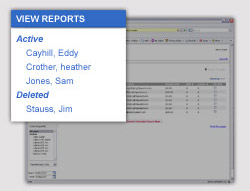 One-Click Invite For Clients and Colleagues
* Quickly invite other employees, customers, or colleagues to communicate, face to face, with you on SightSpeed
* 3 easy steps and your clients and colleagues can be communicating with you on SightSpeed
Minimum System Requirements
CPU
* Windows: 1GHz or Faster
* Macintosh: G4 1GHz or Faster (Intel Processors are Supported)
RAM
* 256 MB
Operating System
* Windows XPImage, VistaImage
* MacintoshImage - Tiger 10.4.11 or higher, Leopard 10.5.0 or higher, Safari 3.0 or newer
Web Camera
* SightSpeed is compatible with almost every webcam that works for Windows and Mac.
* Supported Frame Rate - at least 15 (fps) frames per second
Internet Connection
* High-speed Internet Connection such as DSL or Cable Required for Full Motion Video


---
Return from SightSpeed to video-software-house/home page

Return back to Video Conferencing Software