ScreenVirtuoso Editor's Review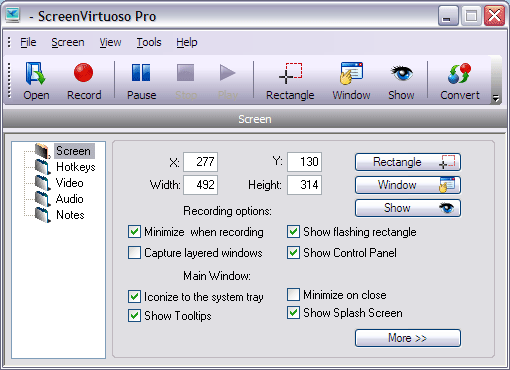 Introduction
ScreenVirtuoso enables you to record anything you want on your desktop. Then save the clip as AVI file, which can also be converted to MPEG 1/2 VCD/SVCD/DVD, SWF compatible formats. Screen Virtuoso allows you to have total control to create custom media profiles that provide full control over the WMV conversion, unlike some video recorders that have only preinstalled profiles for WMV files, causing size distortion and limiting control over the quality of the video.
Screen Virtuoso is a video recording software and converter all in one. Yet with an extremely friendly and easy-to-use interface makes it prefect for the beginner which is what you want. Screen Virtuoso Professional also captures DirectX output properly, which can often result in black screens during regular screen captures. With Screen Virtuoso Pro You can choose to record audio and add optionally annotate which are scene with various shapes or speech bubbles.
Editing
ScreenVirtuoso editing features are nowhere near as good as for example Camtasia Studio 6, however with the price of Camtasia Studio 6 compared to Screen Virtuoso. Well lets just say there is no comparison with Screen Virtuoso what it may lack in the editing features it makes up in the capturing, Converter and price.
Conclusion
Unlike other programs ScreenVirtuoso doesn't rely on fragile Registry and stores its settings in XML file, so it's easy to transfer user settings to another machine. Screen Virtuoso Pro offers great choice, a quality product, and ideal for those who need to produce an e-training video.
Screen Virtuoso offers you the possibility to add notes to the captured videos, and you can also edit the items as you see fit. In conclusion Screen Virtuoso is a good product that I think is well worth the time to try for your self, and with the free trial I think you can't go wrong so I'm off like a bag of prawns in the sun.
---
Screen Virtuoso Features
Overview
ScreenVirtuoso allows you to record a desktop activity and save the clip as AVI file, which can also be converted to MPEG 1/2 VCD/SVCD/DVD, FLV/SWF, WMV compatible formats. The software can limit recording to a selected window or a rectangle area on the screen. Software also captures DirectX output properly, which can often result in black screens during regular screen captures. It allows you to record streaming videos from Internet or Media Player. You can choose to record audio and optionally annotate a scene with various notes or speech bubbles. The program is easy to use; you can pause/resume recording, control it via keyboard hotkeys, and also adjust the recording parameters to achieve higher or lower quality videos.
lossless FM Screen Capture video compressor is intended for creating demonstrations and tutorials. Now it is a part of Screen Virtuoso.
Screen Virtuoso is easy-to-learn, easy-to-use but still powerful software that can save you much time!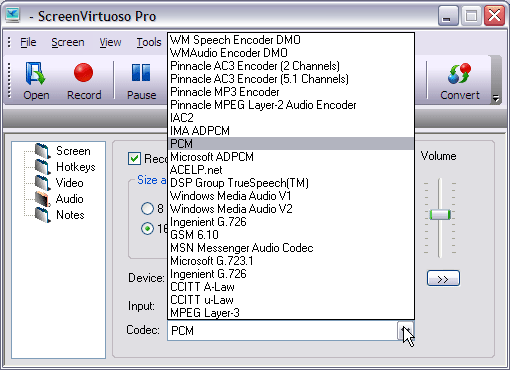 Key Features:
* Records a desktop activity and saves it as AVI file including sound (optional).
* Multiple codec choices available ( ScreenVirtuoso 3.0 and higher supports DirectShow video compressors ).
* Special lossless FM Screen Capture Codec for creating demonstrations and tutorials.
* Panning mode allows an area to follow the mouse pointer.
* Pause / Resume modes.
* Allows you to capture streaming videos: Media Player and Internet movies without the 'black screen' effect.
* AVI conversion Standard | PRO.
* Converts AVI files to MPEG 1/2/4, VCD, SVCD and DVD compatible formats.
* Converts video files to FLV/SWF Flash movies. You can publish them on the Web. Examples.
* Converts AVI to WMV.
* Allows to scale video on the fly.
* Watch & Decide mode.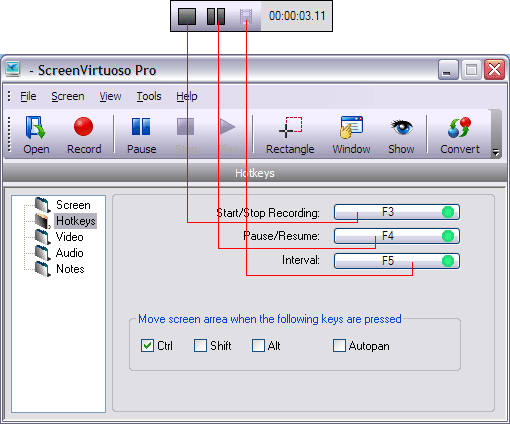 Interval
When ScreenVirtuoso is in Pause mode, you can record frames in interval.Simply click the Interval button located on Control Panel.Set the interval value in milliseconds.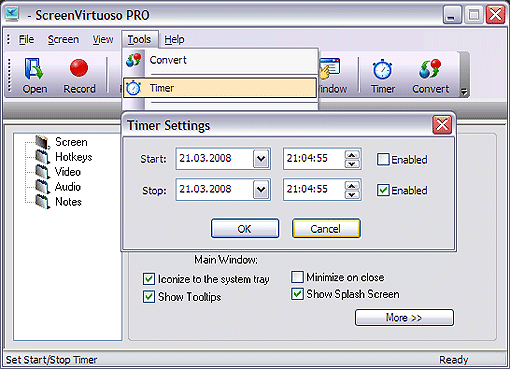 Overlays
Hardware overlay is a technique implemented by most modern graphics cards that allows an application to write to a dedicated part of video memory, rather than to the part shared by all applications. In this way, clipping, moving and scaling of the image can be performed by the graphics hardware rather than by the CPU in software.
One consequence of hardware overlay use is that a screenshot program (for example, the one automatically built into Windows that activates when the PrtSc key is pressed) often does not capture the content appearing in the hardware overlay window. Rather, a blank region containing only the special mask color is captured. This is because the screen capture routine doesn't consider the special video memory regions dedicated to overlays - it simply captures the shared main screen as rendered by the software's graphical subsystem. Some Digital Rights Management schemes use hardware overlay to display protected content on the screen, taking advantage of this quirk to prevent the copying of protected documents by way of screen capture programs.
ScreenVirtouso doesn't capture overlays. It try to disable them instead.There are two modes: Disable (session) and Disable (permanent>If you choose the Disable (session) mode, Screen Virtuoso locks overlays on start and unlocks them on stop.If you choose the Disable (permanent) mode, ScreenVirtuoso runs a special dxlock.exe process when Windows starts. If you choose the Do nothing mode, ScreenVirtuoso does not try to disable overlays.
Note: Overlays locking may result in problems with some programs like DVD players.To fix this, set the Overlays: Do nothing mode.
Note: It is not possible to disable overlays on some systems with powerful graphic cards. It happens very rare, but still happens.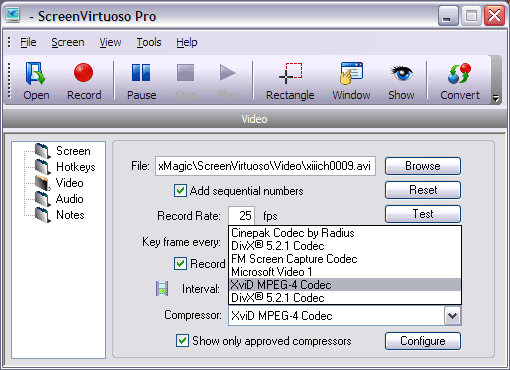 Notes
Notes are intended to annotate your videos.They are figures or pictures with text.Notes are placed at the top of other windows.
You can use standard notes, easy create your own notes and libraries.
To change their position on the screen drag a note and drop it at a new location.
Double click on note to display it on screen, or simply drag and drop it at the specified location.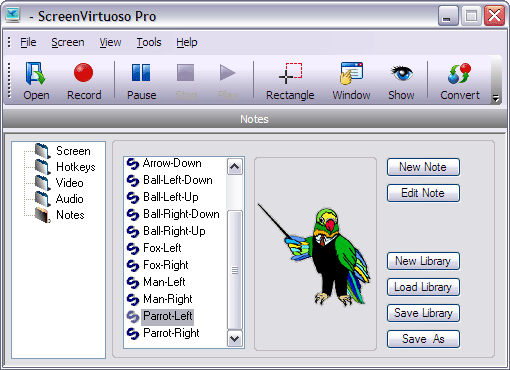 How to Achieve Higher Video Quality
* Increasing video and audio Bitrate (field Bitrate in the Video and Audio tabs) really improves quality.
* Lower the video frame size and/or the frame rate (respectively slider Frame Size and Frame Rate in the Video tab) which will lower the amount of actual data compressed, allowing better quality for the same bitrate. In most cases source video quality might be to much for web Flash video: for example lowering the frame rate from 30 FPS to 20 or the frame image to 75% original size will produce better video quality at the same bitrate without significant quality loss.


The following table below highlights the differences between the Screen Virtuoso Standard and PRO editions: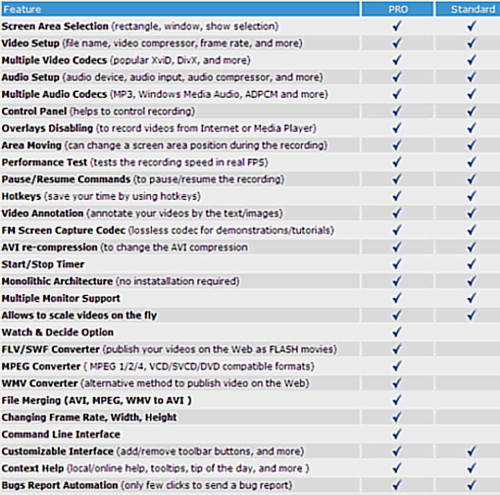 Screen Virtuoso screenshots more click here



---
Return from ScreenVirtuoso to video-software-house/home

Return to Video Capture Software