Replay Media Catcher
Download Online Video & Audio from Millions of Sites in Just One Click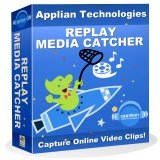 1. Replay Media Catcher lets you Download MORE Web Video
2. Capture Web Music to MP3
3. Easy One-Click Downloading and Recording
4. Convert files with built-in converter tool
5. Capture 100% of YouTube videos even in free demo mode!
Easy, Powerful and Convenient Web Video Capture
Replay Media Catcher is the best streaming video and audio/MP3 downloader on the planet. Here's why:
* It's Easy: Just click "Start Recording", then play your media, and an exact digital copy is downloaded to your hard disk.
* It's Powerful: ReplayMedia Catcher supports more streaming protocols than any other stream downloading software.
* It's Convenient: ReplayMedia automatically names and tags your video and MP3 files. No more cryptic file names.

This is the main window of Replay Media Catcher where you will be able to view all the grabbed Flash videos.
what you'll be able to do
* Download millions of Online Videos.
* Capture streaming MP3 files.
* Convert files to WMV, MPEG, 3GP, iPod/iPhone and more.
* Automatically name and tag songs and video files.
* Download from more sites than any other solution.
* Record with one click.
* Edit and change MP3 tags.
* Extract MP3 tracks from FLV video files.
* Enjoy a Free Trial!
* Be safe: No Spyware. No Viruses. 100% Guaranteed.
The Settings window is the place where you will be able to specify the storage directory and select the plugins.
Download MORE Videos than any Other Software
ReplayMedia Catcher can download media from Flash Video, Windows Media and Wowza servers, including any site that uses the HTTP, MMS, RTSP, and RTMP protocols. ReplayMedia does not support Adobe Secure RTMP Measures.
For capturing online video, you can download videos from millions of popular places, including:
* YouTube™
* MySpace™
* Daily Motion
* iFilm™
* Metacafe™
* TV Show sites.
* Movie sites.
* And millions more!
Download MP3s from Popular Music Sites
For audio and music sites, ReplayMedia Catcher will grab the MP3s as they stream down to your PC. Even better, it uses song recognition technology to tag the MP3 files with the artist, title and album. It really works! You can try it with sites like:
* MySpace™
* Pandora
* Last.fm
* Project Playlist
* and more!

ReplayMedia Catche Converter tool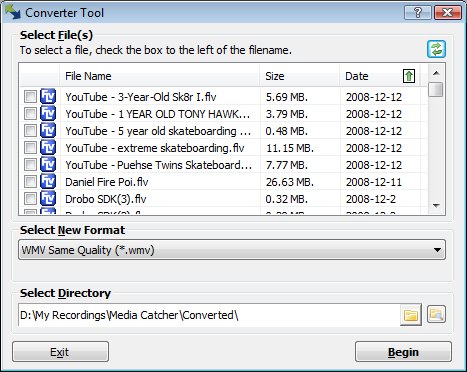 System Requirements
* Runs on any PC with Windows 2000, XP, Server 2003 or Vista.
* Real Player is required to convert from Real formats.
Got a Mac?
All Applian recording products are designed for the Microsoft Windows operating system.


---
Return from Replay Media Catcher to video-software-house/Home page

Return back to Streaming Video Recording