Yahoo! Video
Yahoo! Video ( http://video.yahoo.com ), is a Yahoo! website dedicated to video. It is similar to sites like YouTube, MySpaceTV, MSN Video and Veoh.
Yahoo! Video began as an internet-wide video search engine and added the ability to upload and share video clips in June 2006. A re-designed site was launched in February 2008 that changed the focus to Yahoo-hosted video only. The site now consolidates all premium video from across Yahoo! properties with user-uploaded video.
The free service provides users with a means to search and play videos, save videos to their 'favorites', subscribe to channels, create play lists, and embed videos in web pages and blog posts. The homepage contains editorially-featured videos that change daily and skew towards comedy, viral videos, talented users, odd stuff, animation, and premium entertainment content.
Yahoo! Video accepts videos in WMV, ASF, QT, MOD, MOV, MPG, 3GP, 3GP2 or AVI formats and transcodes to a 700 kpbs bitrate. Video playback is in Flash and presented in a 16:9 aspect ratio by default.
Yahoo Video Home Page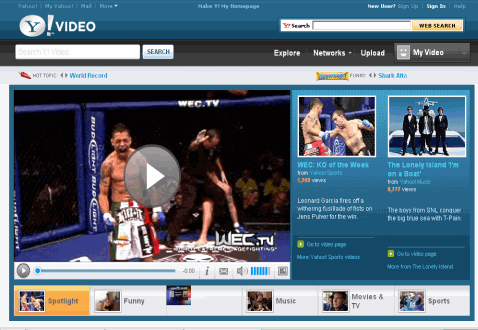 Guidelines
Things to do
* Keep it clean- People of all ages visit Yahoo! Video. Do not upload pornography, nudity, or extreme violence.
* Be courteous- Everyone wants to be treated with respect, and showing respect to others makes the community better for all members.
* Comment- Participate in the community. Let people know what you like, and even what you don't. Please comment fairly, and remember that real people made these videos. They deserve respect. And don't use profanity; it will just get removed.
* Describe your video well- Keep your titles, tags, and descriptions accurate. That way people can find your videos.
* Protect your privacy- Don't give out personal information to others. Remember, this site is seen by millions of users, and there are probably things you don't want everyone to know.
* Upload videos that belong to you- Respect the copyrights of others and use this site for videos you have the rights to, or content that is in the public domain.
* Flag inappropriate content- Find something that violates our guidelines? Click the 'Flag as inappropriate' link and we'll review it.
Yahoo Entertainment & TV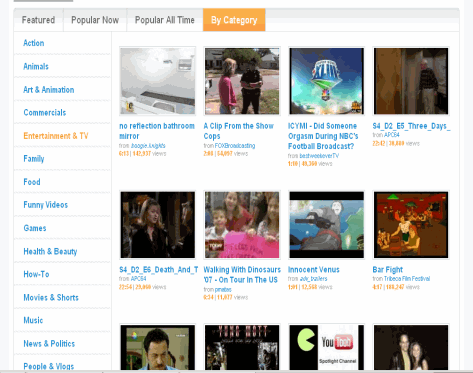 Things NOT To Do
* Don't spam- This includes videos and comments. Sure, online video is all about self-promotion, but if you post content solely to advertise another website, it will be removed and your account may be suspended.
* Don't upload the "usual suspects"- Videos depicting nudity, pornography, sex, graphic violence, dead bodies, serious bodily injury or death, threats, or animal abuse are not allowed.
* Don't violate copyright- Be smart about what you upload. Unless you made the video yourself, or you have the rights from the person who did, it's not a good idea to upload it. Your account may be suspended for uploading infringing content.
* Don't hate- We're serious. The Yahoo! Video community is made up of people of different races, religions, age groups, sexual preferences, and backgrounds. We ask you to respect diversity and differences in your comments and videos.
* Don't post off-topic comments- Please keep your comments relevant to the video, network, or individual concerned. Chain comments, repetitive comments, or other types of mass-postings will be removed and your account may be terminated.
* Don't Harass- Don't demean, attack, impersonate, intimidate, or embarrass others. If we receive a valid complaint about your conduct, we'll send you a warning or terminate your account.
See video advertising in a whole new way.
Want to leverage the power of online video to amplify your brand—while bypassing the investment of creating original content? Count on Yahoo!'s Clickable Video Ads. These high-performance ad formats outperform "companion ad" formats 3:1.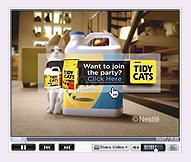 * What a performance!: Clickable Video Ads consistently outperform "companion banner" video ads 3:1
* That's how we roll: Plays as a pre-or post-roll, so it doesn't disrupt the viewer's experience
* Single and loving it: Format is clickable within the video playback window, creating a single visual experience for users. No companion ad necessary!
* Play it again, Sam: Save time and money on creative development. Rather than investing in new creative executions, you can easily turn existing :30 and :15 TV spots into clickable ads.


---
Yahoo video Home page

Return from Yahoo! Video to video-software-house/home page

Return back to Video Hosting Services