HiDownload Pro
HiDownload Pro is a multimedia streaming and and RTSP Real Time Streaming Protocol with optional resume, enabling you to download movies, music and capture streaming video and audio,record radio from Internet.
It's also a multi-threaded download manager that allows you to download individual files (or lists of files) from web and FTP sites while maximizing the potential of your internet connection.
HiDownload also offers a built-in Broadcast Manager. In addition, it provides all the standard features of a download manager, including scheduling, drop basket, download history, clipboard monitoring, download categories as well as zip preview and more.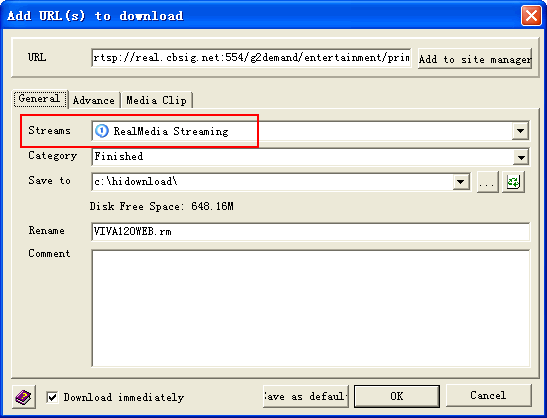 Key Features:
Accelerated Downloads:
By splitting the files into several parts and downloading them at the same time you save time.
Support protocols:
HTTP,FTP,MMS/MMST/MMSU,RTSP,PNM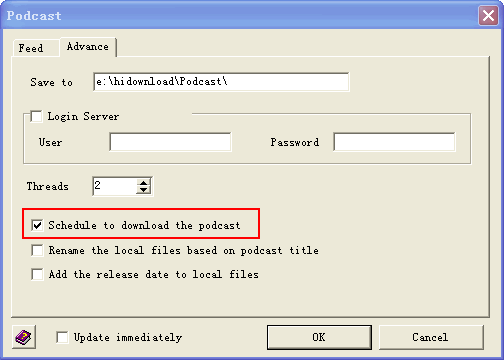 Record:
Streaming Video and Streaming Audio
All the popular streaming formats are supported, including:
o Windows Media™
o Real Audio™ and Real Video™
o QuickTime™
o Flash Video (FLV)
o Streaming MP3 (Shoutcast™)
Record all kinds of great online media, including:
o Music Videos.
o YouTube, PutFile, Google Video and other Video Sites.
o Live Internet TV and Radio.
o Streaming Webcams.
o Shoutcast™ and other Streaming MP3 radio.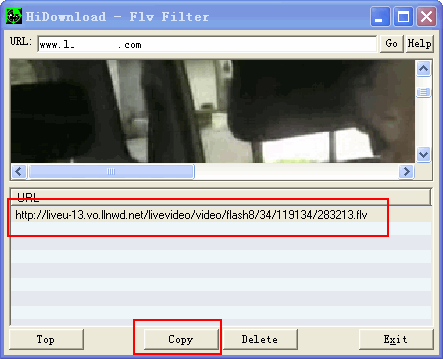 Support Meta-files:
ram, smil, asx, wax, wvx, m3u, pls
Categories:
you can easily have files of certain types downloaded automatically to a folder you specify.
Broadcast Manager
Browser Integration:
The program can detect clicks on certain file types in the most common browsers and automatically handle the downloads for you.
Currently HiDownload Pro integrates with:
o Internet Explorer
o Mozilla Firefox
o Mozilla
o Netscape
o Opera
Advanced Scheduler:
you decide when and what will be downloaded!
Zip Preview:
view the contents of Zip files before download
Zip Extract:
download & extract specific files from zip archive
Virus Checking:
You may select files that have been downloaded and scan them.
Support Proxy Server:
You may set HiDownload to use a proxy server according to your network configuration.
Cookies support
Rename automatically
---
Return from HiDownload Pro to video-software-house/Home page

Return to Streaming Video Recording