Premiere Elements 7 Editors Review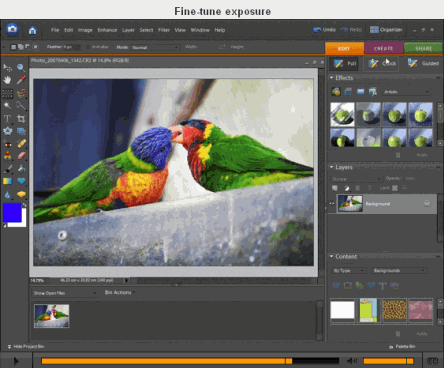 INTRODUCTION
The wisdom underlying the design of Photoshop Elements 7 & Adobe Premiere Elements 7 is based on the idea that software should be easy to use and tell a story using photos or video.
Editing effects in Premiere Elements 7 is as easy as falling off a log just, drag and drop process, and while the amount of available effects is impressive, you don't get as many as with PowerDirector.
What is nice about PremiereElements 7 is that you can create a straight forward video in less time than it would take to watch your favorite TV show through editing or by using InstantMovie and themes, To give you more time to put your feet up. Adobe PremiereElements 7 is a product that gets you up and running fast and easy, gives you the help you need, and allows you to add features to your work as your knowledge grows.
Those who want more will find Adobe Premiere Elements 7 is not lacking in capability. Adobe Premiere Elements 7 is capable of producing an award winning movie in the the eyes of your friends and family any way, and who knows maybe a Oscar! Due to it's analyzing power in reviewing every single movie clip (And that also includes those files in AVCHD format), numerous faces, the sound and a lot more.
EDITING
Adobe has made this software very easy-to-use with advanced editing. Editing is as simple as rolling down a hill and, although there are not many new transitions or effects, the ones that are in this software are all that you will ever need.
Adobe Premiere Elements offers a large database of transitions and it is simple to drag and drop a transition into the timeline. Adobe Premiere Elements still stands above other elementary editing software.
Premiere Elements offers a well rounded collection of video, photo and audio editing tools. Add this product with Adobe's Photoshop Elements and you'll have a complete media editing system.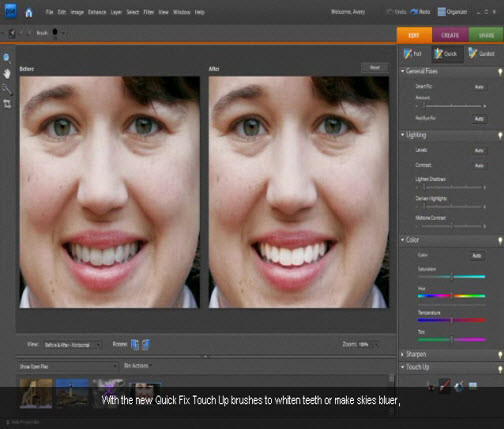 MOVIE
The software brings together tools to formulate movie clips and photos, edit video, apply themes, create video CDs and DVDs and back everything up onto the Web. Making movies has never been so much fun.
It's also not quite up to the high standards set by Sony's Vegas Movie Studio, although this package may be a little more overwhelming to the novices.
Adobe Premiere Elements 7 offers time-saving options that help users make high-quality, Hollywood-style movies.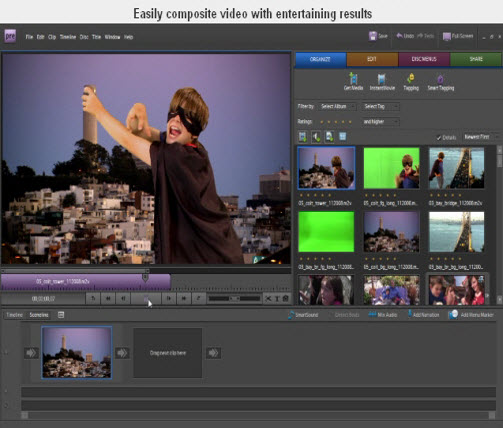 CONCLUSION
Premiere Elements 7 is a scaled down version of Premiere Pro, A powerful movie-making software used by professional in the film industries.
Premiere Elements 7 is a video-editing software used to make countless adjustments to digital movies, including adjusting colors and tones in movies or making selected resizing.
Premiere Elements 7 is still one of the best applications of its type and has improved notably since I saw it last.
The philosophy underlying the design of Photoshop Elements 7 & Adobe Premiere Elements 7 I think is based on the idea that it should be easy as falling off a log to use the software to tell a story using photos or video. Premiere Elements 7 is also available as a bundle with Adobe Photoshop Elements 7 for creating videos and cinematic slideshows.
The price for Premiere Elements 7 with Adobe Photoshop Elements 7 is for the full version $149.99 USD and for the upgrade is $119.99 USD. I personal think the price of this product and products that are close to this one are asking alot for them. In these tough times the price should reflexed the current state of events and be lower.
Premiere Elements 7 Features and Benefits
Add cinematic flair to photo slide shows
Premiere Elements 7 Create a traditional photo slide show, and then add video-style effects, transitions, motion graphics, and more. You can also use new Instant Movie to automatically put your slide shows in motion. Preview slide shows in full screen and then burn them to disc or upload them to the web to share with family and friends.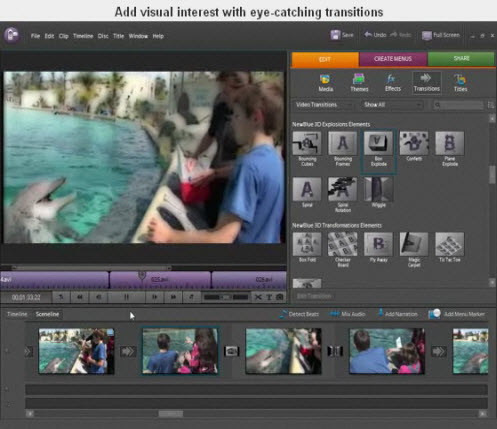 Do more with individual video frames
Capture a single video frame add text, graphics, and other enhancements and then put the frame back in your movie for a fun or dramatic freeze-frame effect. Or use Premiere Elements 7 to create a personalized disc cover for your movie.
Create extraordinary photos
Premiere Elements 7 software combines power and simplicity so you can make ordinary photos extraordinary, tell your stories in personalized creations, and easily find and view all your photos.
• Easily get the results you want with yourphotos. Simultaneously select an area andapply incredible effects with a single brushstroke; get whiter teeth and bluer skies inseconds; count on step-by-step editingassistance; and quickly create the perfectphoto by cleaning your scene of unwantedelements or making great group shots,seamless panoramas, and more.
• Use flexible themed layouts to createeverything from photo books and postcardsto scrapbook pages and disc covers. Entertainfamily and friends by sharing photos invisually stunning interactive web gallerieswith one-of-a-kind templates.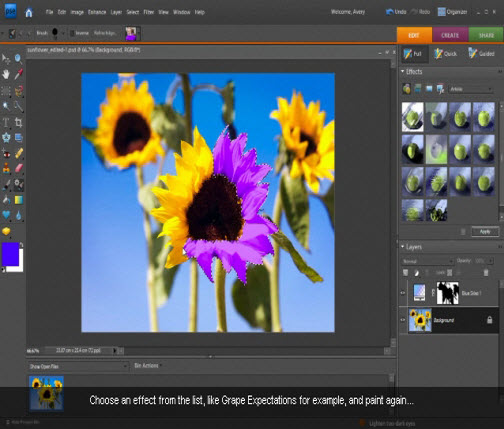 Easily find and view all your photos
Premiere Elements 7 Keeps your photos and video clips at your fingertips with custom tagging, new text searching and other powerful search capabilities, and viewing choices that allow you to sort and find your photos the way that works best for you. And scroll through your photos, apply tags, and view and retrieve photos quickly — even when your library grows to include thousands of photos.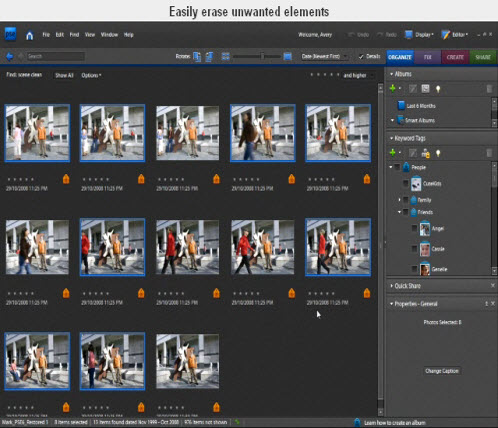 Select and apply with a single stroke
Simultaneously select a specific photo area and apply incredible effects with a single stroke of new Adobe Smart Brush. Improve lighting, add rich textures, and more with eight libraries of over 50 sophisticated effects.
Quickly clean your scene of unwanted elements
You took five shots of your subject, but pedestrians and cars distract from the scene in every one. Now, see only what you want to see in your photos — use new Adobe Photomerge® Scene Cleaner to simply brush away any elements that changed positions between photos and create a single perfect composite.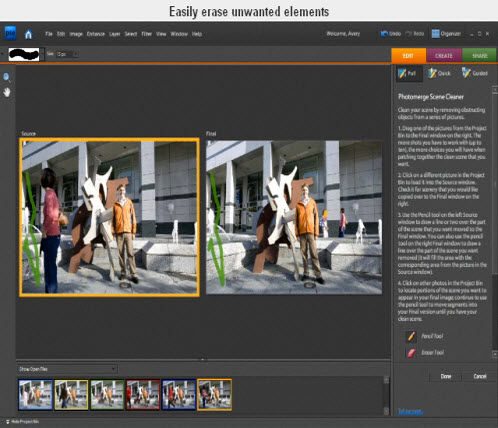 Easily make movies and get incredible results
With Premiere Elements 7 software, it's easy to make incredible movies. Get started quickly with automated movie making options, add knockout visuals and sound, and share your movies everywhere.
• Get started quickly with all your video clipsand photos at your fingertips and easy optionsfor making incredible movies. Count on newautomated options to find your best clipsand even instantly edit them into a polishedmovie using Hollywood directors' creativetechniques. Or simply drag and dropthumbnails of clips, transitions, and effectsto the Sceneline to create your story.
• Give your movies professional style withdazzling visual and audio effects. Easilycombine elements of different videos forentertaining results, or impress youraudience by adding animated titles, richaudio, amazing special effects, TV-styletransitions, and custom, professionallydesigned interactive disc menus.
• Easily share your movies on DVD or Blu-rayDisc, broadcast far and wide by uploadingyour movies directly to YouTube or yourpersonal sharing site, or play movies onmobile phones and other devices.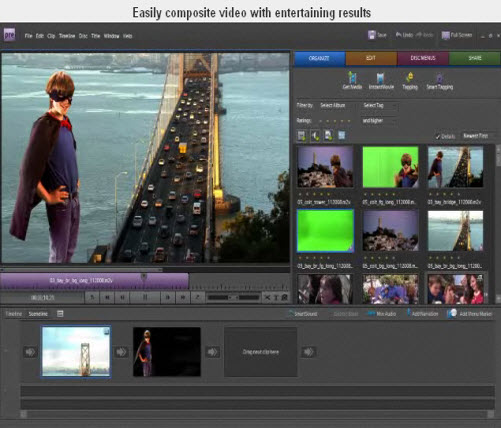 Create a polished movie instantly
Create polished movies with no effort using creative techniques from Hollywood directors. Just choose a theme and new Instant Movie automatically edits together your best clips with coordinated music, titles, effects, and transitions. You can even customize the final result if you wish.
Easily put your subject in a new setting
Composite video with entertaining results. Use new Adobe Video merge technology to cleanly extract your moving subject from a solid-color background and then drop it into a new setting for a fun or creative twist.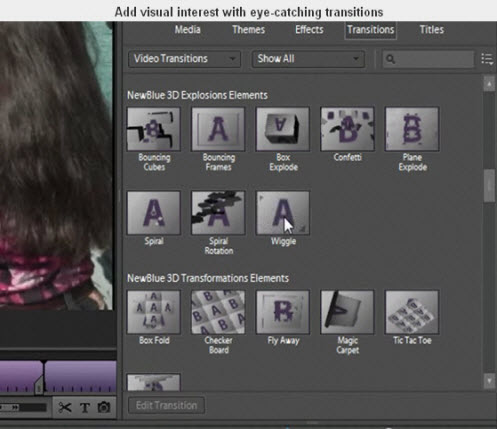 Easily combine photos and videos in entertaining ways
• Enjoy all the functionality of AdobePhotoshop Elements 7 and Adobe PremiereElements 7 software, and take advantageof integration that delivers even more waysfor you to creatively use photos and videostogether—all for a great value.
• Access all your photos and video clips fromone convenient place, no matter whichapplication you're using.
• Create a traditional photo slide show, andthen let new Instant Movie automaticallyadd video-style effects, transitions, motiongraphics, and more. Preview the slide showin full screen and then burn it to disc orupload it to the web to share with familyand friends.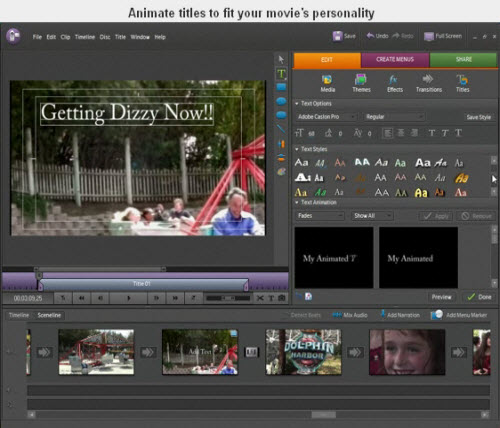 Share photo memories with your favorite people
Create public or private online galleries for family and friends to enjoy. Photoshop.com sends the invites, and viewers won't have to register to look. And get regular delivery of fun new sharing templates that turn your photos into an adventure: Give your viewers a virtual trick-or-treat with your kids' Halloween pictures, or set the scene for your holiday photos in a winter wonderland. Learn more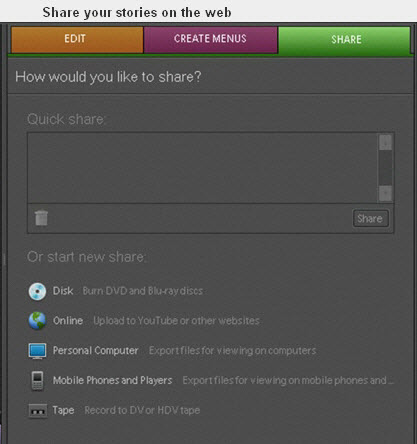 Set the scene anywhere
Didn't bring your laptop to the party? You can still show off your favorite photos and movies from any web-enabled computer. Use the online Organizer, which works and looks like the one in your desktop software, to find the photos you want or download your video clips, and let the show begin. You can also view your photos from your mobile devices using Photoshop.com Mobile.

Learn more

---
Return from Premiere Elements 7 to video-software-house/Home

Back to video editing software