Vegas Movie Studio Editors Review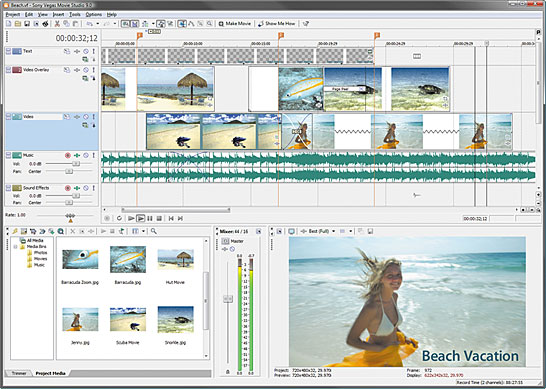 Introduction
Vegas Movie Studio is the "entry-level" version, the primary compromise from Vegas Pro being that you're limited to a maximum of 4 audio and 4 video tracks per project (VPro supports unlimited tracks).
Vegas Studio is a user-friendly basic editing system that provides a wide variety of transitions and video effects. Vegas Studio is not very intuitive. Vegas Studio is perhaps the only NLE in the consumer market that supports 24p properly.
Vegas Movie Studio is perfect for making professional looking movies. Vegas Studio is a perfect application for those wanting to get their feet wet with a scalable video application.
Editing
Editing your movie is the way to get from movies that are just a DVD of the footage straight from your camera, to movies that have a sense of style. Editing HD is simple; just drop your clips on the timeline and go to work.
Sony Vegas Studio has been our top choice of video-editing software for many years, thanks to an inspired interface that keeps things extremely simple without compromising editing power. Preview performance can make or break video-editing software, and Vegas is better than ever in this respect.

Effects
Once your footage is captured, you can edit it by selecting a clip and dragging it onto the editing timeline, where you can apply effects, titles and transitions with ease.
It is the perfect tool to add great effects, and can give spectacular results when the movies are displayed on a TV. This package will allow you to apply blur effects and also cut out audio.
The large number of effects and filters are excellent. Vegas Studio also includes several color presets that will drastically alter your video to create interesting effects (for example, giving clips a red hue) or will help correct colors that fluctuate from one clip to the next due to lighting differences.
Conclusion
Vegas Movie Studio is available for a 30 day downloadable trial if you have any doubts. Vegas Studio is limited to 4 video tracks and 4 audio tracks whereas the full version of Vegas has unlimited video/audio tracks.
The interesting part of Vegas Studio is that free movie clips are available to you in case you feel like interlacing them into your video to spice things up.
Sony Vegas Studio is designed as a video editor but works just a well with still images. If you want to get into video editing beyond Windows Movie Maker (which isn't bad, to be honest), Sony Vegas Movie Studio is the way to go.
Sony Vegas Studio is a popular program that is inexpensive and allows more control than the freebie programs but isn't nearly as complicated as Final Cut.
The price of Vegas Movie Studio 9 is $54.95 (Download) or $69.95 for the DVD plus shipping.

Vegas Pro 8 is $549.95 USD (Download) or $599.95 for the DVD plus shipping.

Vegas Movie Studio Features and Effects
---
Professional-Level Power for Your Home Studio
Vegas Movie Studio, Video editing, audio production, and DVD authoring come together in a single, powerful solution. Vegas Movie Studio Platinum Edition software has everything needed to produce high-quality movies, corporate videos, wedding DVDs,. Easily edit video in almost any format including high definition. Powerful tools for video compositing, color correction, and surround sound mixing help you get feature-film results in your home studio. With integrated DVD authoring, Blu-ray Disc burning, and multiple options for online posting, you can deliver projects however you or your clients desire.
The Platinum Difference
Vegas Movie Studio Platinum software has everything that Vegas Movie Studio software has and more. You still get the easy drag-and-drop video editing, integrated DVD layout and burning, and Show Me How interactive tutorials. Plus, Vegas Movie Studio Platinum software provides added features and advanced editing tools such as:
* HD video editing: HDV and Sony AVCHD * 5.1 surround sound mixing and encoding * Direct export to Sony PSP™ (PlayStation®Portable) * Advanced 3-wheel primary color correction tools
From HDV Camera to Screen in 3 Easy Steps
1. Capture & Organize
Capture DV, HDV, and photos directly from digital devices. Import Sony AVCHD video from your hard drive. Search, sort, and view your media with the Explorer window.
2. Edit & Enhance
Simply drag and drop to create movies and slideshows with effects, transitions, titles, and credits. Make changes on the fly and see the results in real time.
3. Save & Share
Powerful tools let you author DVDs or burn movies to Blu-ray Disc™. Share movies on PSP®, iPod®, and other portable devices.
Create Stunning HD Movies
Vegas Movie Studio Platinum software has everything you need to produce movies in spectacular high definition. Editing HD is simple; just drop your clips on the timeline and go to work. Its high-performance engine is beyond fast—see your changes happen in real time. You can even work simultaneously with standard-definition and high-definition video in the same project. When you're done, export your movie in a variety of HD formats for easy sharing.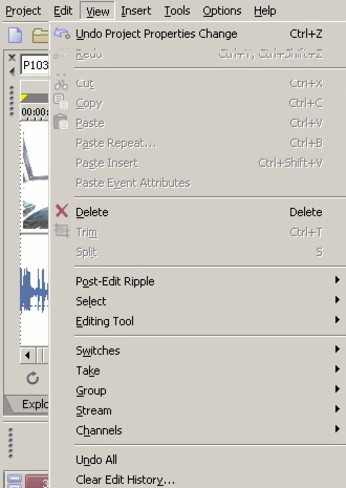 Share HD Movies on Blu-ray Disc™
Vegas Movie Studio Platinum software makes it easy to share your high-definition movies on Blu-ray Disc™. Burn your movie to Blu-ray Disc™ directly from the Vegas Movie Studio Platinum timeline.
Edit Sony AVCHD
Sony AVCHD is the newest HD video format on the market. Currently there are very few software products that can offer AVCHD editing. With Vegas Movie Studio Platinum software you can easily import and edit Sony AVCHD in a matter of seconds.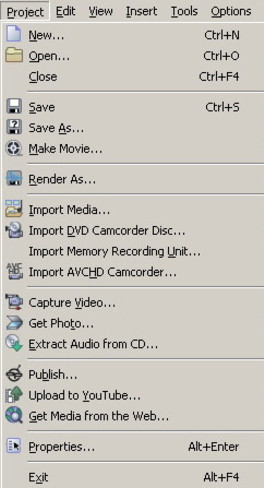 Surround Sound Mixing and Encoding
Import multichannel (5.1) source files from your camcorder including Sony® DVD and AVCHD Handycam® models. Use the surround sound mixing and panning tools to create surround DVD soundtracks. Encode AC-3 stereo or 5.1 mixes without leaving the software using the included Dolby® Digital AC-3 encoding software.
Video Restoration Tools
Advanced color correction tools enhance washed-out footage, make specific colors stand out, and balance differences in video due to camera setup or lighting. Image restoration tools remove red-eye from photos.
Add Professional Effects
Enhance your video with hundreds of professional 2Dand 3D video effects, titles, and filters, maker of professional video effects plug-ins. Customize your soundtrack with over 20 real-time DirectX® audio effects.
---
Vegas Movie Studio 9 Platinum Features
General Features
* New! Streamlined New Project and Make Movie wizards
* New! Improved native HDV .m2t playback performance and improved memory handling for HDV longform projects
* New! Sony AVCHD enhancements
* Freehand envelope drawing on the timeline
* Display of media marker names in events
* Improved snapping — color-coded visual snap indicator and the ability to snap to event edges on other tracks.
* Multitrack video and audio editing
* Easy drag-and-drop functionality
* Show Me How interactive tutorials
* Real-time editing of parameters during playback
* Support for any aspect ratio (4:3, 16:9, etc)
* Supports multiple file formats and frame rates
* High Definition editing and output
* Simple drag-and-drop operations
* Explorer view
* Project media bins
* Over 500 video effects and transitions
* Track markers and regions
* Unlimited undo/redo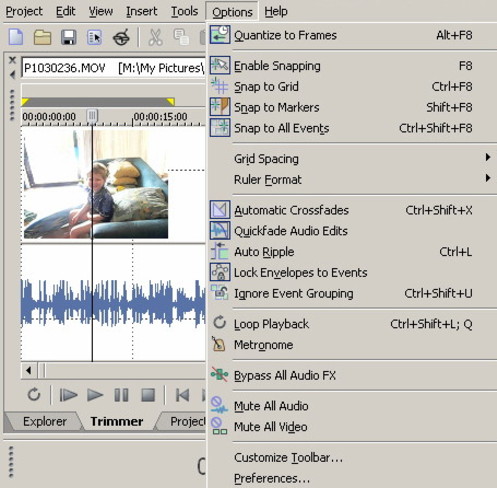 Video Features
* New! Fullscreen preview to a primary and secondary Windows display
* Real-time playback of effects, processes and transitions to external monitor
* Color-correction tools
* MPEG-1 and MPEG-2 support
* Superior frame rate conversions
* Credit rolls and text animation
* External monitor preview
* Ripple editing across tracks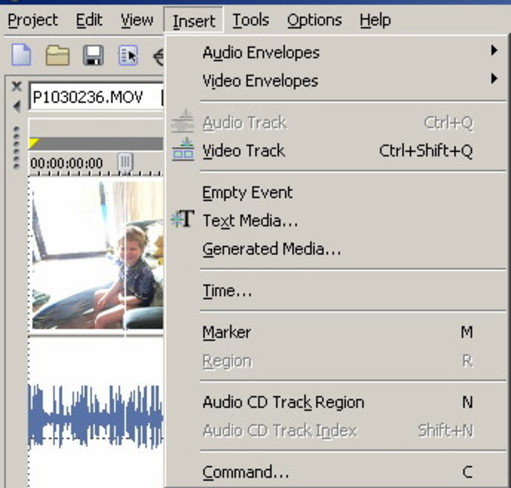 Audio Features
* New! Cinescore Studio plug-in for music soundtrack creation
* Gracenote® MusicID™ CD album recognition
* Multithreaded audio engine maximizes performance
* Basic surround support
* Support for multichannel (5.1) source files for Sony HDV Handycam® camcorders
* 16-bit, 44.1 kHz song quality for exceptional performance
* Volume and pan envelopes
* Audio time stretching
* Event normalization
* CD audio extraction
* Audio/video synchronization detect and repair
* DirectX audio plug-in support
* VST audio effect support
* ASIO™ drive support
* Tape-style audio scrubbing
* Audio restoration tools
* Track-level audio FX and envelopes
Transitions and Effects
* More than 220 customizable 2D and 3D transitions
* Over 350 customizable video special effects
* Add text animation, titles and scrolling credits
* Red-eye removal tool
* "Green screen" chroma key effects
* Pan and crop tool to animate still images
* Video and audio time stretching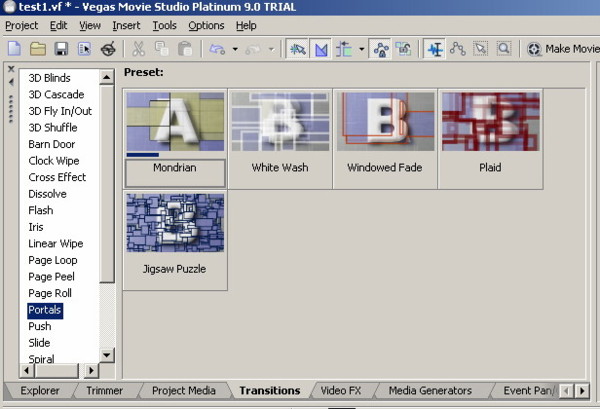 Capture and Import
* New! Import support for LEPC files
* New! Import support for MJPEG-encoded files
* Sony AVCHD import and edit support
* Import and export support for ATRAC3™, ATRAC3plus™, and ATRAC Advanced Lossless™ files
* Insert I-frames at marker positions when rendering MPEG-2 (works in conjunction with I-frame viewer in DVD Architect Studio 4.5).
* ATRAC audio plug-in (Templates only)
* Gracenote® MusicID™ CD album recognition
* Import media from Sony® DVD Handycam® camcorders
* Batch capture and automatic DV scene detection
* PC connection via FireWire®, i.LINK™ connector or IEEE-1394 devices
* Import pictures in BMP, GIF, JPG, and PSD formats
* Import AVI, DV, SWF, and MPEG 1 & MPEG 2 files
* Import audio files in WAV, MP3, AIF, CD Audio and PCA formats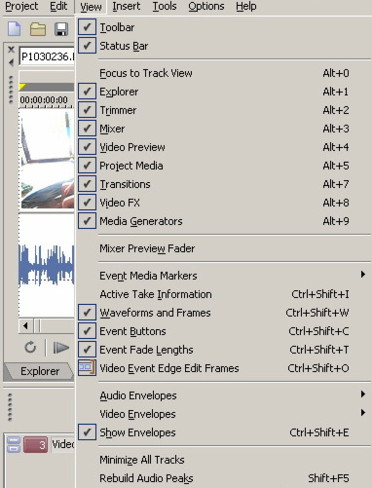 Export and Hardware Features
* New! Burn to Blu-ray Disc™ from timeline
* New! Integrated upload to YouTube™
* New! Improved Sony AVC/MPEG-4 encoder
* AC3 Stereo and 5.1 encoding
* MainConcept AVC/AAC, read/write (Templates only) iPod Format
* PSP™ (PlayStation®Portable) integration
* Sony AVC/AAC (Templates only)
* VideoCD and Multimedia CD burning
* Export video projects in multiple formats for the web
* One-click publishing to ACIDplanet.com
Additional Features for Vegas Movie Studio 9 Pro Pack
* Includes Sound Forge Audio Studio software
* Includes Pro Pack Cinescore Themes
* 106 NewBlue® 3D transitions and effects
* Includes 1,001 Sound Effects
System Requirements
* Microsoft® Windows® XP SP 2 or Windows Vista™
* 800 MHz processor (2.8 GHz recommended for HDV and AVCHD)
* 200 MB hard-disk space for program installation
* 256 MB RAM (512 MB RAM recommended for HDV and AVCHD)
* OHCI-compatible i.LINK® connector1/IEEE-1394DV card (for DV capture and print-to-tape)
* Windows-compatible sound card
* DVD-ROM drive (for installation from a DVD only)
* Supported CD-Recordable drive (for CD burning only)
* Supported DVD- R /- RW /+ R /+ RW drive (for DVD burning only)
* Supported BD-R/-RE drive (for Blu-ray Disc™ burning)
* Microsoft DirectX® 9.0c or later (included on application disc)
* Microsoft .NET Framework 2.0 (included on application disc)
---
Return back to Video Editing Software

Return from Vegas Movie Studio to video-software-house/Home